There are countless ESl teaching jobs available around the world, from teaching in a private language school in South Korea, to volunteering in a small town in Costa Rica, and everything in between. With all the opportunities out there, knowing where you want to teach English and how to get a job there is an exciting and confusing process. Here are two Oxford Seminars grads who used our Job Placement Service to streamline their job searches and find rewarding jobs teaching English abroad. See their stories below.
Lyn – Reuniting with my ESL school in China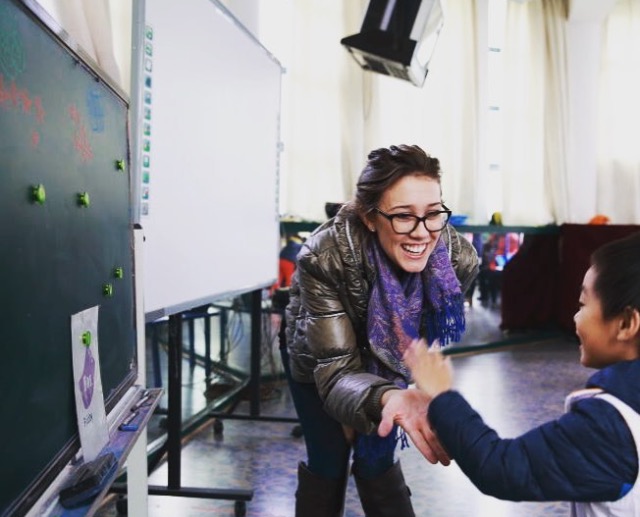 I am so grateful that I found Oxford Seminars! At that time I was only 19 years old, unsure of what I wanted to study in University and interested in traveling! I was the youngest student in the class and the experience was intimidating but exciting all at the same time. It also turned out to be the greatest decision I made!
I had never imagined myself moving to China at the age of 20 but without a University degree and with my young age, it was amazing to find a secure position!
I realize now how lucky I was, having Oxford Seminars find a reputable school, who took good care of all foreign teachers! They provided accommodation, medical, flights, and talked us through the entire process before arriving. I never hesitated or had any reason to doubt my new employers and that year in China was the best year of my life! I learned more than I think a year in University would have taught and opened my eyes to the world!
The best part was, after finishing my amazing experience in China, I returned home to obtain my BA… feeling like I'd found my passion as a teacher. After graduating (five years later), I contacted Oxford Seminars, asking, but not expecting, them to put me back in contact with my old school in China, hoping I could go back and see my old students.
Guess what! Within a day or two they had gone above and beyond my hopes! Putting me back in contact with the old school, following up on my experience and even offering positions they knew had interested me in other countries! I ended up going back and teaching at the same school and seeing my old students as well!
I still can't believe even 8 years later, the placement service is still in effect.
Thank you so much for the experience and all of your support Oxford Seminars!
Danielle – Personalized Assistance with My Job Search
Let me just start by saying that I cannot even begin to express how helpful the Job Placement Service that Oxford Seminars offers was for me.
Upon receiving my TESOL/TESL/TEFL certificate, Alison (my primary Job Placement Advisor) reached out to me to get my placement process started. Searching for an ESL job can be an extremely daunting process because of the countless possibilities awaiting Oxford graduates, but the Placement Service helps make the process immensely less stressful.
The first and possibly most important stage of job searching that the Job Placement Service assisted me with was editing and polishing my resume. I had been using the same resume for years thinking it to be perfect; however, this was not the case.
Oxford helped me to make it even better! Alison made suggestions based on additional experiences I had that were not listed on my resume and general layout edits. After she helped me with that and my cover letter, I was confident to begin sending these documents out to potential employers.
But, I didn't even have to conquer this stage by myself either! Alison sent my resume and cover letter to Oxford's contacts in my chosen countries, per my request. After doing so, my job search team wished me well and gave me tips for the following stages of my search.
I found the additional resources that the Job Placement Service gave me to be unparalleled. My advisor made me feel as if I could ask her anything and it would not be bothersome. So from inquiring about my chosen countries to visa questions, I asked away and Alison always responded willing to help. In addition, I always received a response within 1 to 3 days.
The service made me feel like an individual and not just a number that Oxford had to help. The Job Placement Service is one of the aspects of Oxford Seminars that sets the company apart from the rest.
My experience with the service was so wonderful that I would absolutely recommend Oxford to my friends and family. In fact, I already have.
Thank you for all of your help, Oxford Seminars!
Find a Job Teaching English Abroad and Start Your Adventure