The photos of exotic places, stories of sightseeing, and menus of delicious food are not what are making you hesitate about teaching abroad, are they? New places, new people, new adventures – they are all what got you thinking about being an ESL teacher in the first place. But sometimes it feels like all these blogs and stories are missing something pretty obvious – the fact that it's teaching English abroad, not simply traveling abroad.
You might be an ESL teacher if you are worried.
Are you feeling anxious and hesitant? More than likely, these feelings are because you are worried that you don't have what it takes to actually run a classroom full of students. Interestingly enough, being worried about it is actually a good sign. It shows that you care. On the contrary, if you are only thinking about the traveling, sightseeing, and the food, then chances are, you are not taking the work aspect of this adventure very seriously. And newsflash: taking your job seriously is the first step to doing it well!
This sense of responsibility is one of the many traits that will help to make you an effective ESL teacher. The fact that teaching abroad is something in which you are interested says that you also have a few more skills and personality traits that will help you in your new teaching career.
You might be an ESL teacher if you are open-minded.

Wanting to live in and experience new cultures is also a good indication that you are open-minded. It doesn't sound like much when faced with a roomful of people looking to you for guidance, but you would be shocked at how valuable an adventurous worldview can be in the classroom. Just like at home, people come in all different shapes and sizes equipped with a wide range of ideas and opinions. Being opened-minded means that you have the tools to listen to your students without issuing judgment and that you provide a comfortable learning environment for them.
You might be an ESL teacher if you are outgoing.

Being outgoing is one of the most important skills you can have as a teacher. Even if you don't see yourself that way, people don't move across the world if they are too shy to leave the house. If you have the confidence to move to a new country, you probably have more than enough chops to stand up in the front of a classroom.
You might be an ESL teacher if you are flexible.

World travelers also tend to have flexibility in common, as do teachers. Adapting to a new classroom is nothing after you have adapted to an entirely new culture. You must be flexible to tackle either of these tasks. As I said before, students come in all shapes, sizes, and learning types, and you, as a teacher, need to be ready to accommodate, accept, and adjust to this new environment. And you can! Taking the first step to get your TESOL/TESL/TEFL certification and get your journey started is all the proof you need.
You might be an ESL teacher if you are (drum roll, please!) a fluent speaker of English.

The best news is that, as fluent speaker of English, you are already great at what you are teaching! The only things you are lacking are the words to explain what you already do naturally. And this is where Oxford Seminars can help. Our certification course is set up to help you activate the skills you already possess and then help you find a job to use them.
So, my advice is: if you feel like you want to start an amazing, new adventure, you probably already have the skills to make a go of it. When I first started my adventure, teaching was what I was most worried about, but it quickly became what I loved most about the entire experience. Now that I am back in Canada teaching older students a slightly different curriculum, what I miss most about my life abroad is my old kindergarten classroom and my kindergarten students.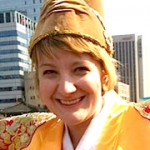 Julianna has lived, studied, and worked in countries all over the world, including France, Germany, and Greece. After completing her B.A. in Classics, she ran away to teach kindergarten in South Korea for two and a half years, returning to Canada only to continue her studies in Classics. Although she still gets her teaching "fix" as an Ancient Greek and Latin instructor, she often contemplates chucking her PhD and running back to South Korea to spend her days having fun with her kindergartners.