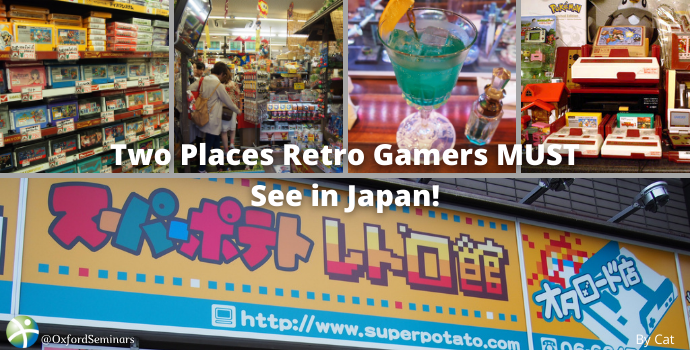 There are many paths to developing a lifelong interest in Japanese culture. When I moved to Japan in 2014 to teach English, I got to know how many of my fellow ESL teachers came to be there. Some practiced Japanese martial arts like judo or karate, while others were there for the food, the trains, or anime. For me, the starting point was video games. I grew up playing Nintendo and Sega games in the 90s, constantly coaxing my siblings and cousins into playing Super Mario World or Streets of Rage 2 with me. In high school, when everyone else had outgrown being my player 2, I spent my spare money buying vintage Nintendo memorabilia on eBay. It might have been a bit of a fixation.
So, years later, when one of my university professors recommended I try teaching English in Japan, I jumped at the opportunity. Not only was Japan the source of all those old games I still loved, but I knew video games were still a thriving part of popular culture there. I already had my TESOL certificate, as well as experience tutoring ESL at my university, so moving to Japan to teach English seemed like the perfect way to start my career while fulfilling my childhood dreams. If you're a fan of retro gaming thinking about teaching English in Japan, or just going for a visit, these are two places you absolutely MUST see while you're there!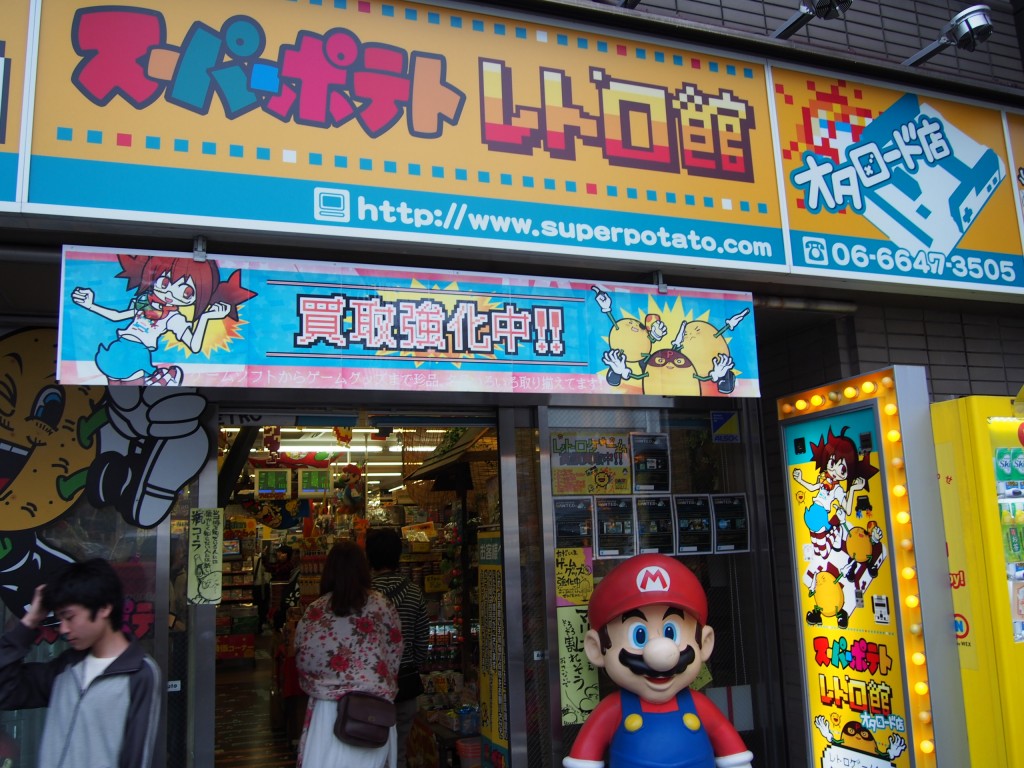 #1: Super Potato
This chain of retro game stores can be found in a few locations throughout Japan; some are smaller than others, some are spread vertically across multiple floors, but they all seem to be built around the same principle: a love of retro gaming. You'll find "blind box" and Figma brand figures, plush toys, clothing, cups and bento boxes, and even snacks branded with Kirby, Donkey Kong, Mega Man, Dig Dug, and other classic characters. Pokémon are well-represented, too, but fans in the know will have already visited one of Japan's numerous Pokémon Center stores. Suffice it to say, my wallet did not survive the encounter intact.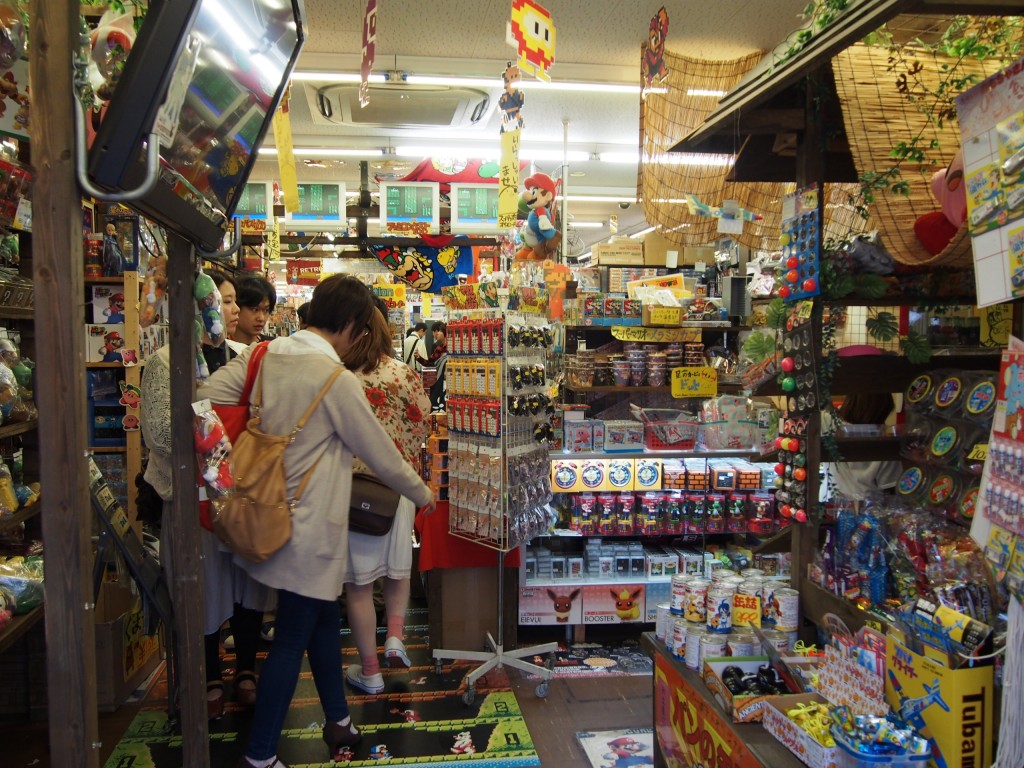 If you're here to play the games you remember in their original Japanese, however, don't worry. The Japanese are known to take good care of their belongings, and the same holds true for electronics. When visiting a Super Potato, you will often see neat stacks of Famicom consoles – the Japanese version of the NES – clean, unmarked, and sometimes even in their original packaging. For those counting, the Famicom is nearly 40 years old. Amazingly, the same holds true for the Famicom Disk System as well, an interesting add-on for the Famicom that used proprietary, bright yellow floppy disks for its games – floppy disks that, of course, had their own adorable mascot, because this is Japan.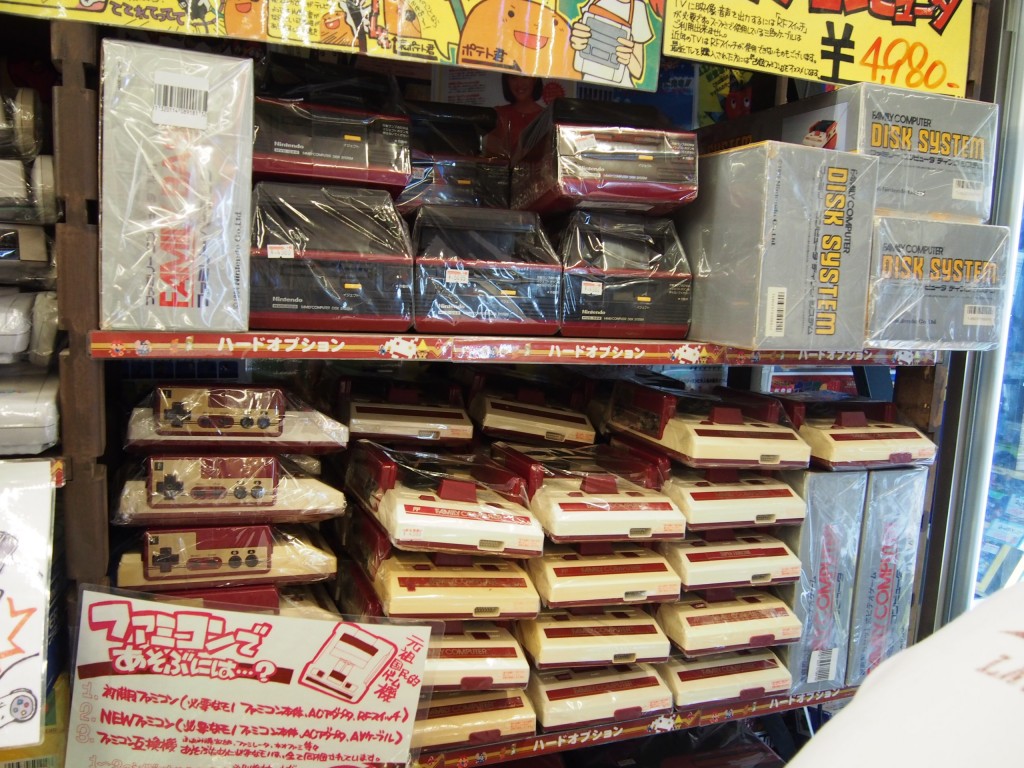 Whatever you're hoping to play, whether it's on the Famicom or any other beloved system from the 80s and 90s, Super Potato almost certainly has what you're looking for. While each location will have different games in stock (they're second-hand goods, after all), you can always count on finding the staples: Super Mario Bros, The Legend of Zelda, Final Fantasy, and more; not to mention dozens of games that were never released in North America! Text-heavy games like RPGs can also be a great learning tool for reading Japanese… so it's very easy to justify buying yourself a few.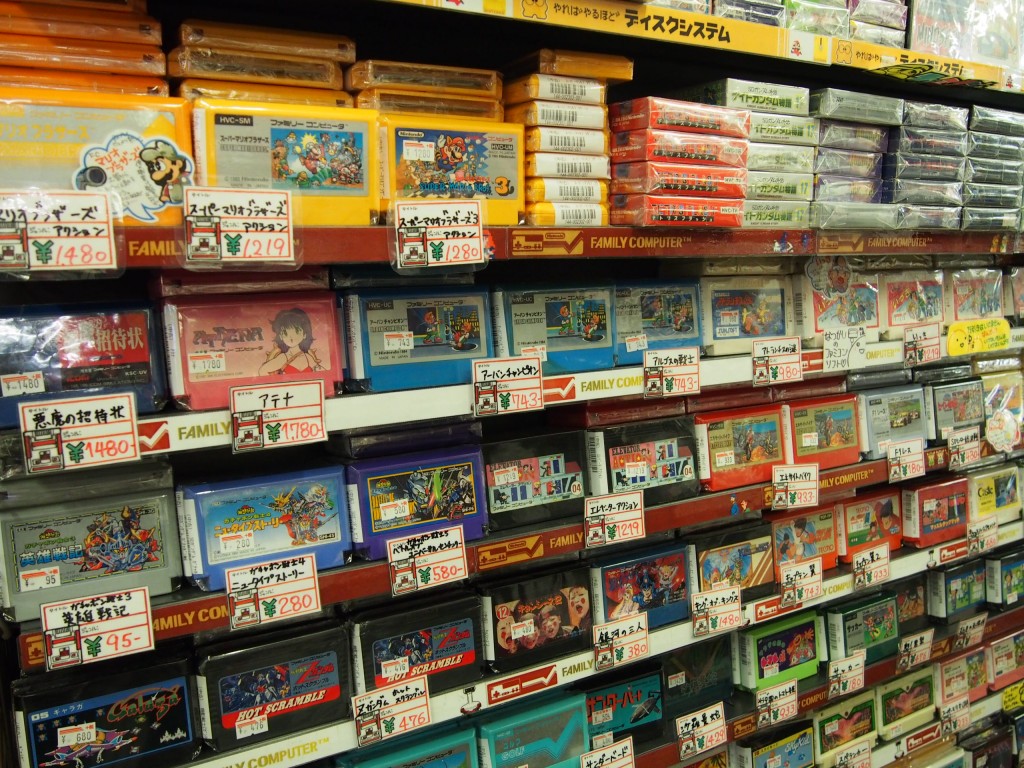 Collectors will be right at home, as well. I may have had to pick my jaw up off the floor when I saw these two gold copies of the Famicom Disk System game Golf, prizes that were only given out in limited numbers at two official Nintendo competitions in 1987. You can see the yellow plastic cases of two more in the back, in the shape of Disk-kun (there's that mascot). Anyway, they're the little ones next to the other game selling for five thousand dollars.
I don't think you can justify that one.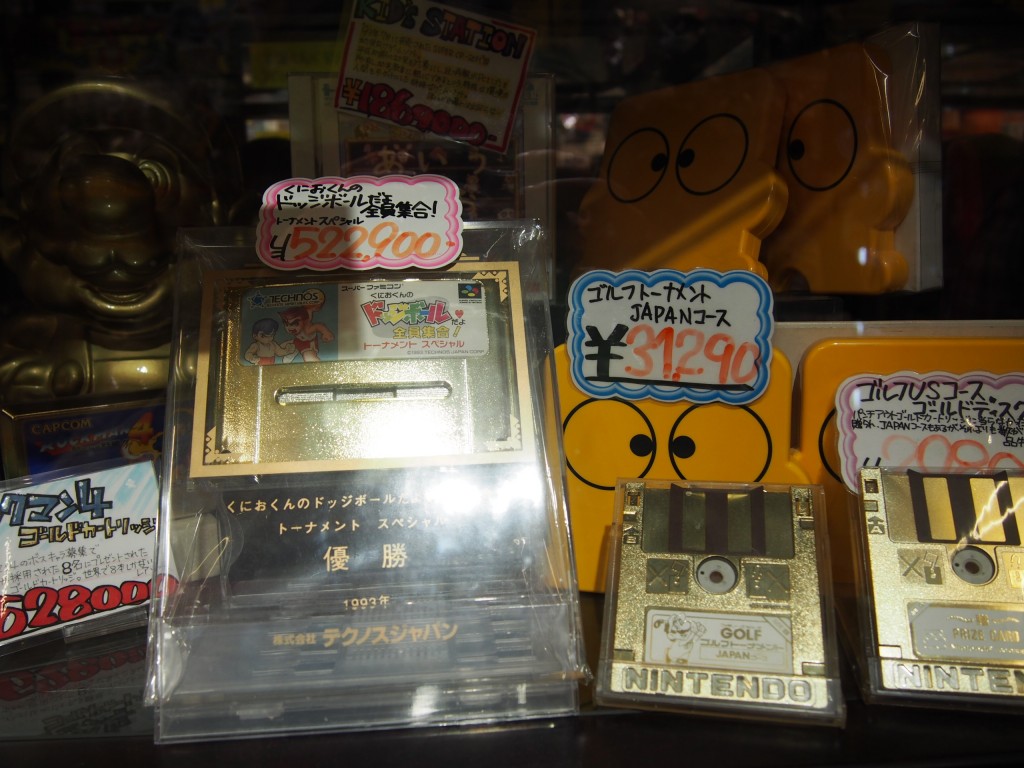 #2: Luida's Bar in Tokyo
Fans of Dragon Quest will recognize the name of this tavern from the iconic series, but just in case you don't, the outside is (tastefully) plastered with the game's name and iconography. It's a great place for a photo op, especially if you can't manage the complicated reservation process to get inside. Fortunately, I managed to book a table for myself and my best friend (pictured, part raccoon).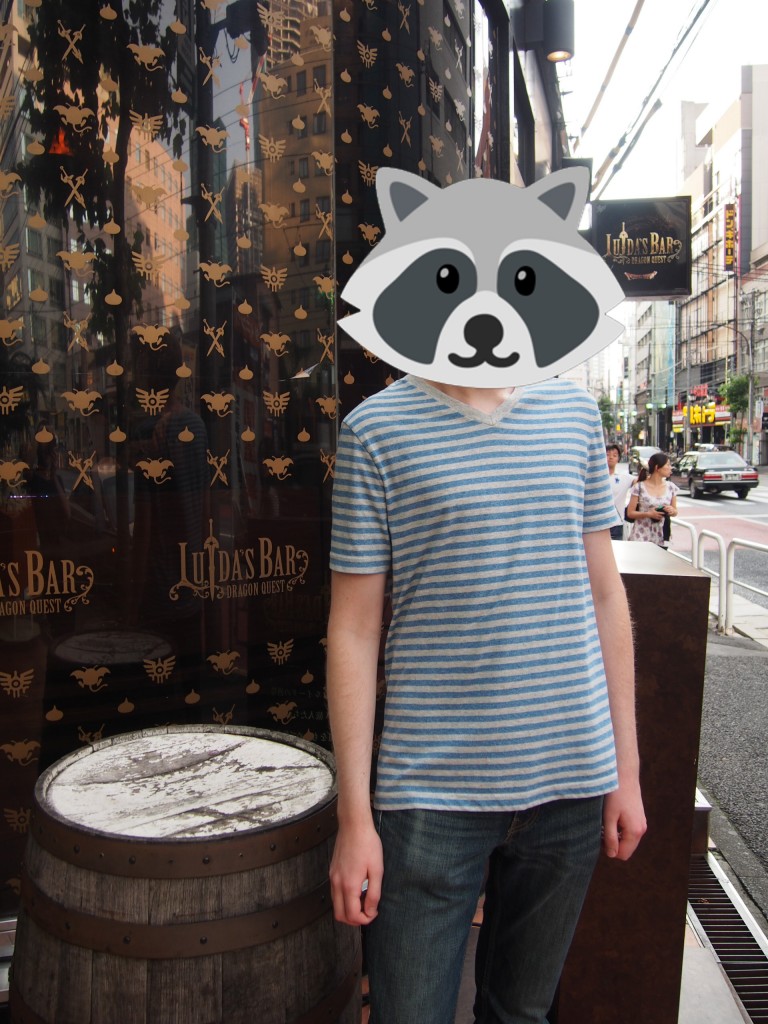 If you do get in, you'll be rewarded with a fan experience like no other. Japan is known for its high-quality collectibles, so it's no surprise to see the Bar is decorated with incredibly detailed replicas and miniatures of the series' monsters and weapons. Personally, this was my favorite part of the experience – these were exactly the kind of "toys" I loved to collect, and here was a thriving restaurant built by like-minded fans.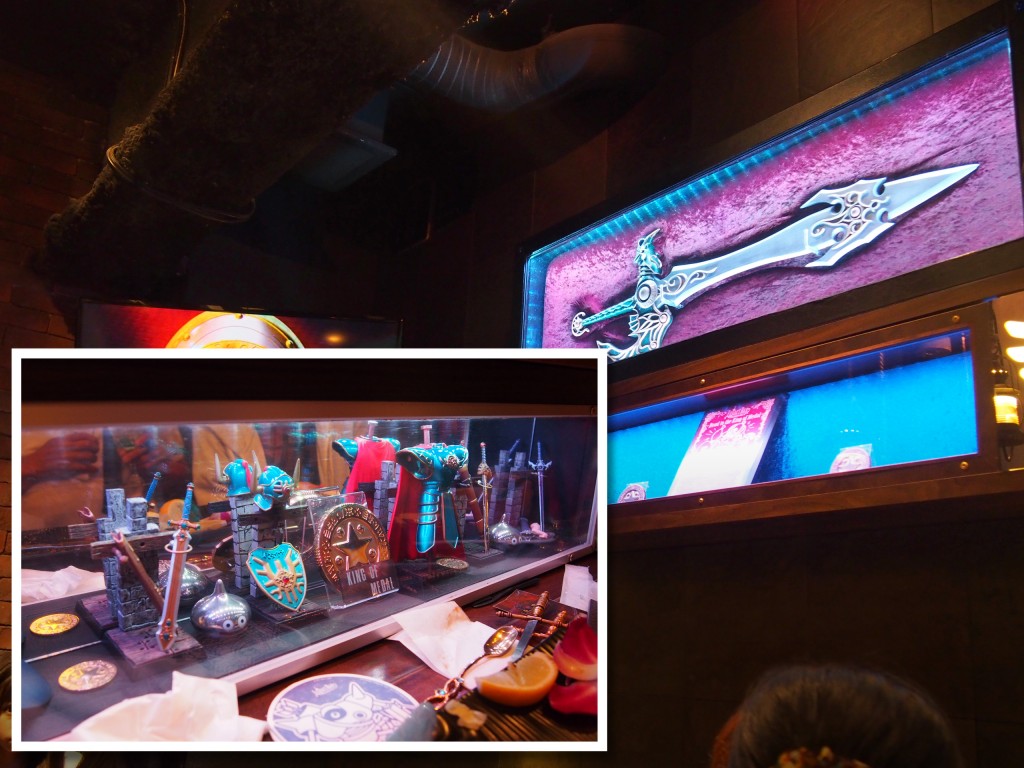 It's clear to see that Dragon Quest holds a special place in the hearts of Japanese gamers. Although they have never been quite as successful in North America, the games in the Dragon Quest series are some of the most popular RPGs in Japan, right alongside other well-known series like Pokémon and Final Fantasy. So it's not surprising that every inch of Luida's Bar feels like nothing less than a celebration of Yuji Horii's brain-child. Speaking of whom, the series' creator has contributed a signed illustration to the restaurant, which adorns one wall with the caption, "role-playing is life." I couldn't agree more.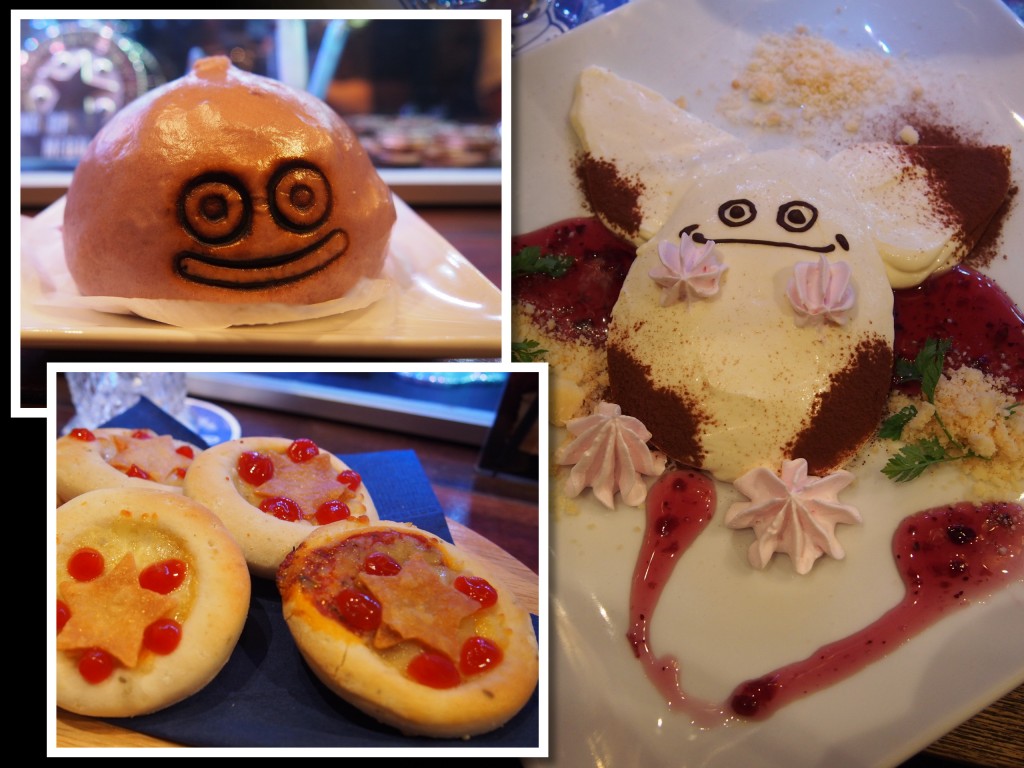 Of course, Luida's Bar is still a restaurant! The menu is delightfully full of game-themed items, including Slime-shaped meat buns, Mini Medal pizzas, and a Teeny Sanguini for dessert, to name just a few of the intricate dishes available. In true Japanese fashion, the attention to detail is almost unbelievable, but the experience wouldn't be complete without it. Still, good luck trying to stick your fork in one of these cute faces!
And just in case the meal leaves you thirsty, you can always wash it down with a potion. What else?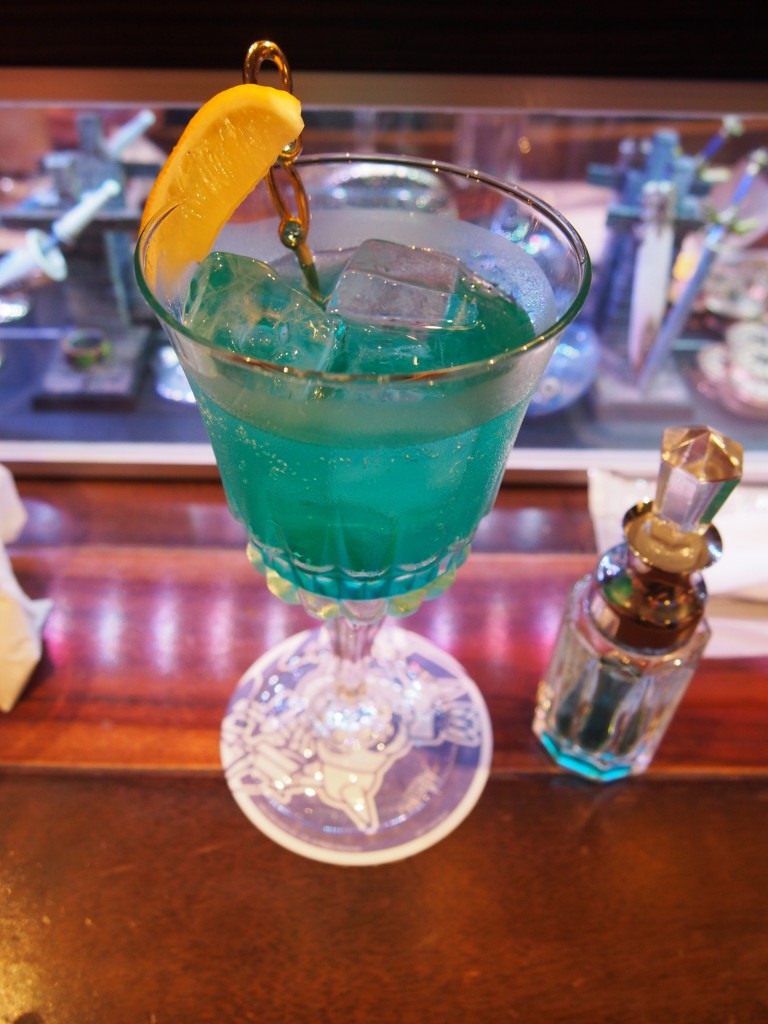 There's plenty more for video game fans to see in Japan – from walls of gachapon toy machines, to cosplay in Akihabara, to knock-off Mario Karts racing down the streets of Tokyo – but I hope these tips about my favourite places help make your pilgrimage a successful one.
See you next mission!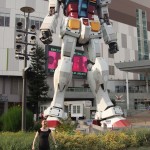 Cat Tompkins tutored ESL students while earning their BA in English and a TESOL certification at CSU, Chico. After graduating, they taught English in Japan through the JET Programme for three years. They are currently a proud member of Oxford Seminars' Job Placement team, and love to get pictures of pets from our grads.