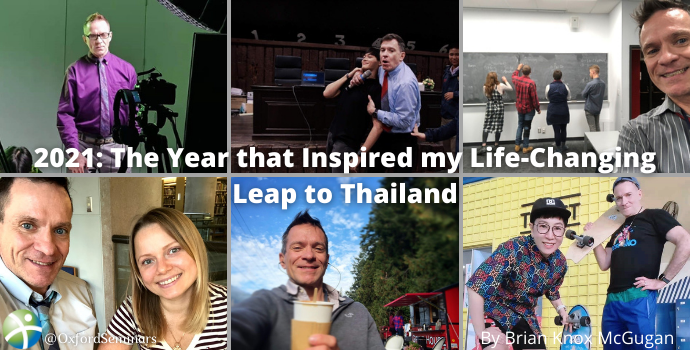 I am a Canadian actor and now ESL teacher and coach, and this is my story. In 2021, the year when the world locked down and self-isolated, the year that I decided to change my life direction, something happened that I had been longing for and thinking about for many years, but never actualized. I have now just finished my morning meditation before my first online student, grateful to the universe for this crazy adventure, and open to inspiration. The floor fan breeze gently cools my face, and icy conditioned air falls lightly on me from above, sunlight streams through the window by my desk.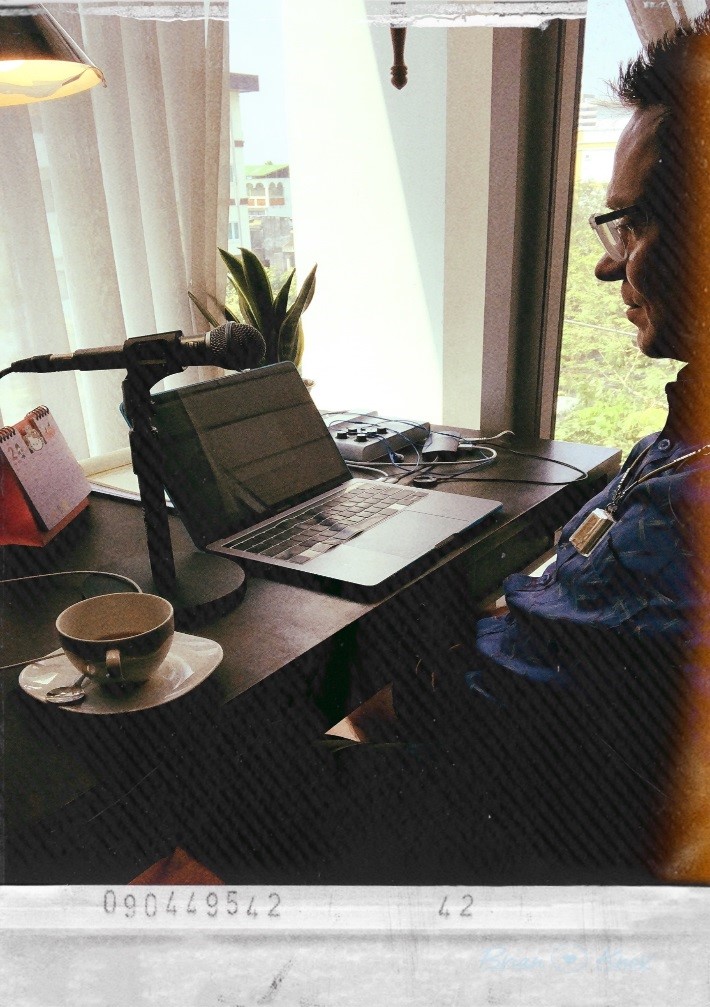 Where did this journey begin? I've lived in Vancouver, Canada since 1987. I lived there for the next 34 years, pursuing film and theatre acting work, and even crew work behind the camera in films and television. From time to time, I need to travel and gain some perspective, so by the summer of 2017 I decided to do some bike touring and camping up Canada's Sunshine Coast, through Powell River to Lund, then over to visit friends in Comox, Vancouver Island, and then down to the Gulf Islands.
During that summer I covered several hundred miles by bicycle, camping and visiting friends, and finally volunteer farming on an organic Saltspring Island farm, picking hops and garlic. The people I met there had an inclusive and healing vibration, and I began to find a missing part of me – my adventurous spirit and nomad self. I shared some amazing times with these people in that farm community, and for a minute it felt like I was a part of their family. Being around their energy inspired deeper values I had been seeking in myself.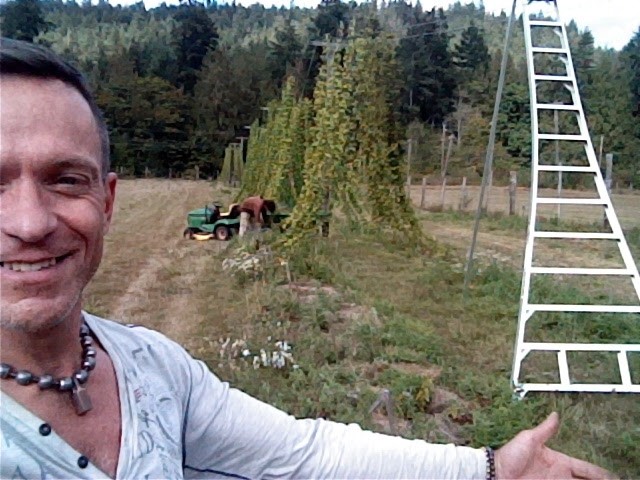 I decided that I would post a selection of inspirational moments on my new Instagram account as I discovered and lived them. As an actor, I loved the idea of building an online audience, a kind of theatre of life using Instagram and Facebook as my e-stage. The biggest challenge with this idea while camping on Saltspring Island was the poor cellphone reception and slow Wi-Fi service around the farm, except for one very small patch of excellent Wi-Fi which happened to be located right next to a fabulous roadside coffee cart. It became my morning ritual to emerge from work in the farmer's field and take a long coffee and internet break.
This was my outdoor creative studio, and every day I would post my new 'wwoofing' (Willing Workers on Organic Farms) farming experiences, or improvise and record a song on the outside piano there, while drinking my morning coffee, deep in silent contemplation. It was on these occasions that I met and connected online with Khun Pete from Bangkok, Thailand. Who knows what force brought us together, but we quickly found a mutual friendship and fascination with each other, and from that day forward we have connected video called and talked every day. Little did I know it, but these would be the first moments that sowed the seeds for my future travel to Thailand.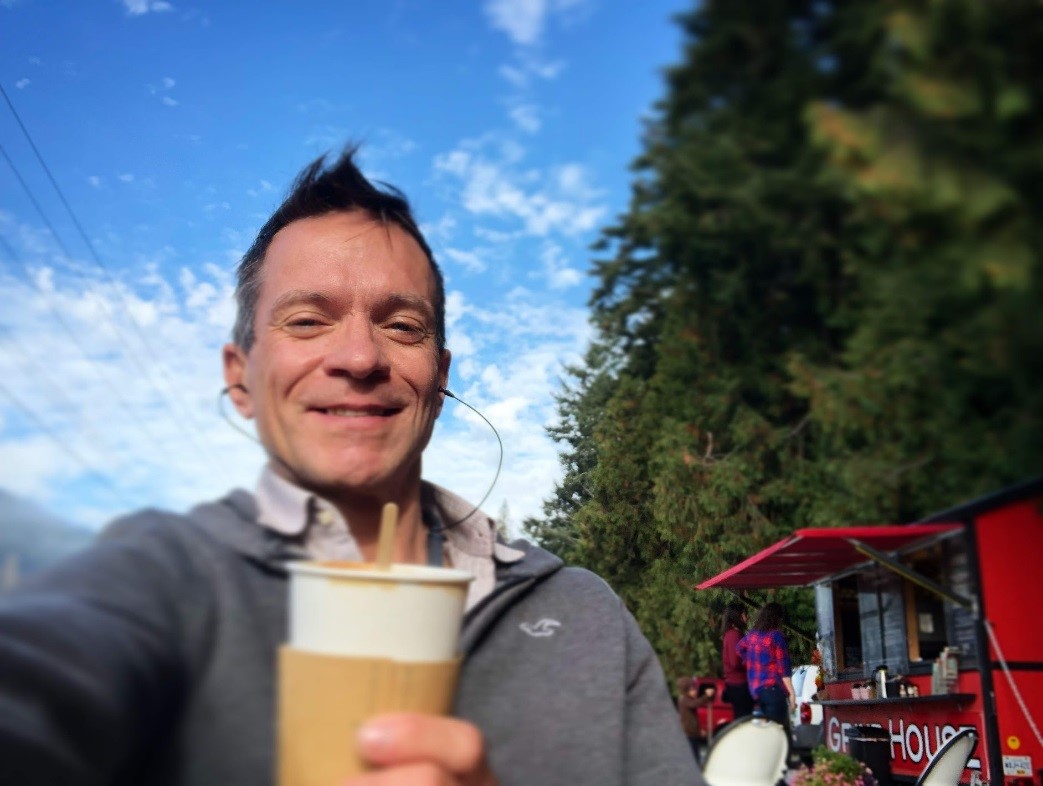 I returned to Vancouver revitalized and focused again, and over the next year, Pete and I talked extensively about my coming to Thailand. I remember the idea seeming like an impossible dream then, but we made a plan and imagined that I could teach English there. So, months and years went by, and then in September 2018 I registered for the TEFL certification class with Oxford Seminars, and at last began studying the course. It was very exciting doing something completely new, and believing in my new goal. I felt alive and activated again as I entered student mode and learned the basics of teaching. I have always had a love of other languages and cultures, so teaching English seemed like a perfect fit for me. Could I somehow make a difference in people's lives and contribute something authentic and original with my talents and experience, but in a new environment? As classes progressed, I soon learned that I am an audio-kinesthetic learner, and that my experience and energy as an actor and artist could help me to create exciting and active lessons in English. Although my organization and academic skills needed work, the performing and active aspect of teaching was just a breeze for me, and my final lesson presentation for the class was creative and fun for everybody. Immediately following the in-class portion of the course I completed the online portion, and soon had my 100-hour TEFL certification.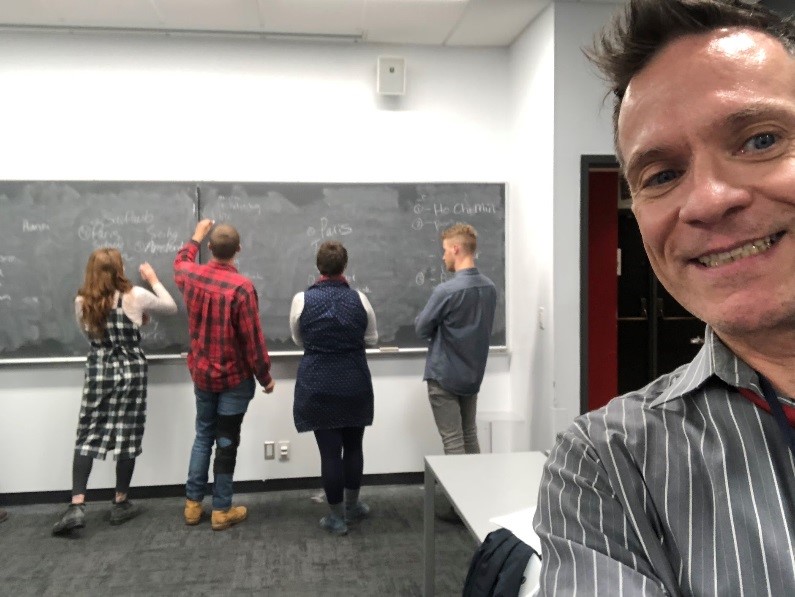 I booked my ticket to Thailand for the 20th of November via Beijing China (pre-Covid, travel was relatively simple still), and prepared to travel to Thailand to meet my friend Pete for the first time. This would be my first long distance trip I had taken since I bicycled the Great Ocean Road in Australia in 2004, and it felt well overdue. On a cold, sunny day three days before my departure for Thailand, I intentionally went to English Bay beach in Vancouver, took off my socks and shoes to paddle in the freezing water, and looked in the direction of Thailand. Fittingly, this was the same beach I laid on when I first arrived in Vancouver 34 years ago, and I could feel the excitement of my new adventure building as the icy water cleansed my feet; the perfect ritual for a new beginning.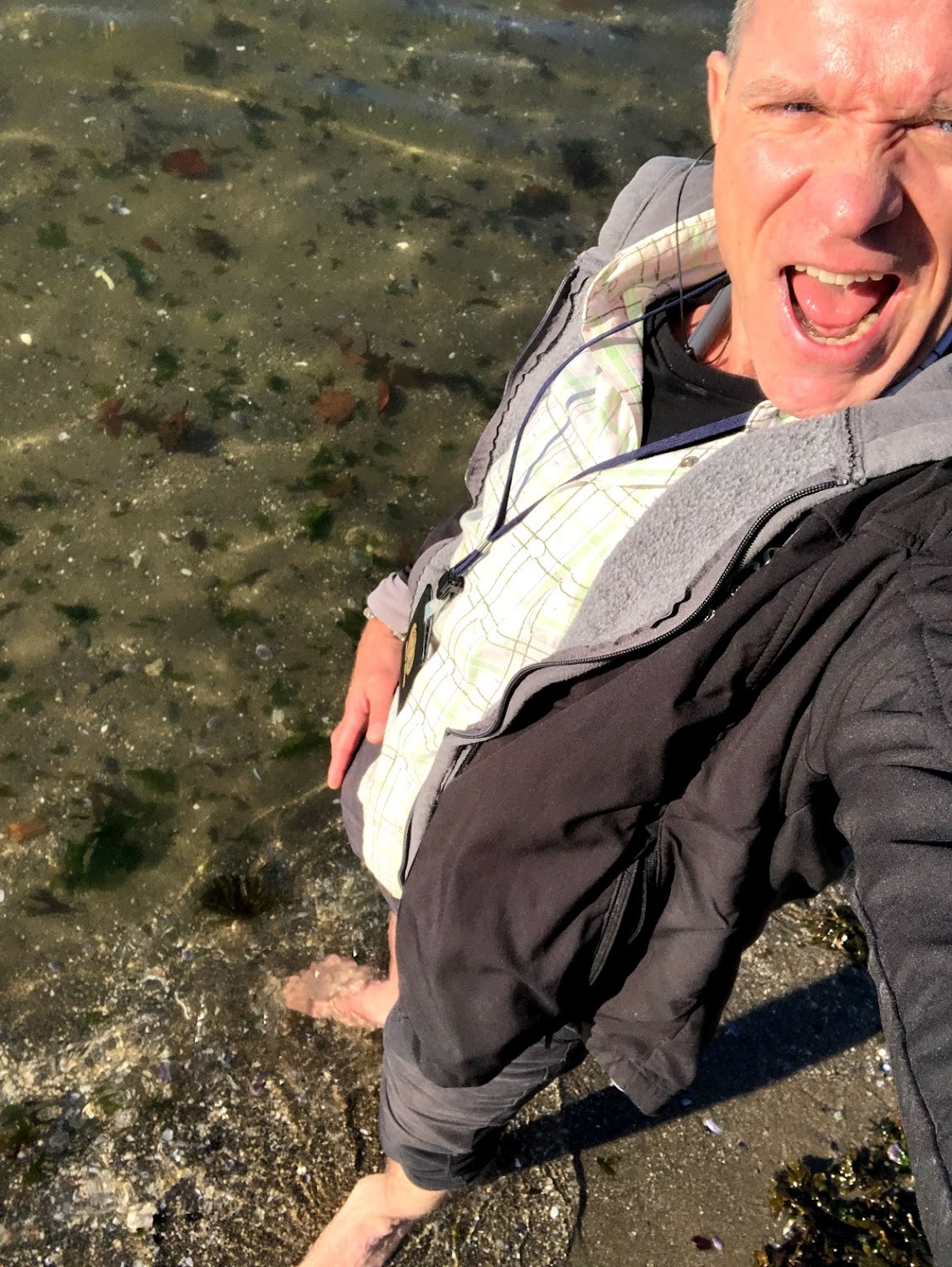 This first visit to Thailand was a whirlwind seven weeks starting with the Loi Krathong festival, discovering all the magic of Thailand, including amazing food, Tuk Tuks, trying to speak my new Thai language, visiting temples, rivers, festivals and markets.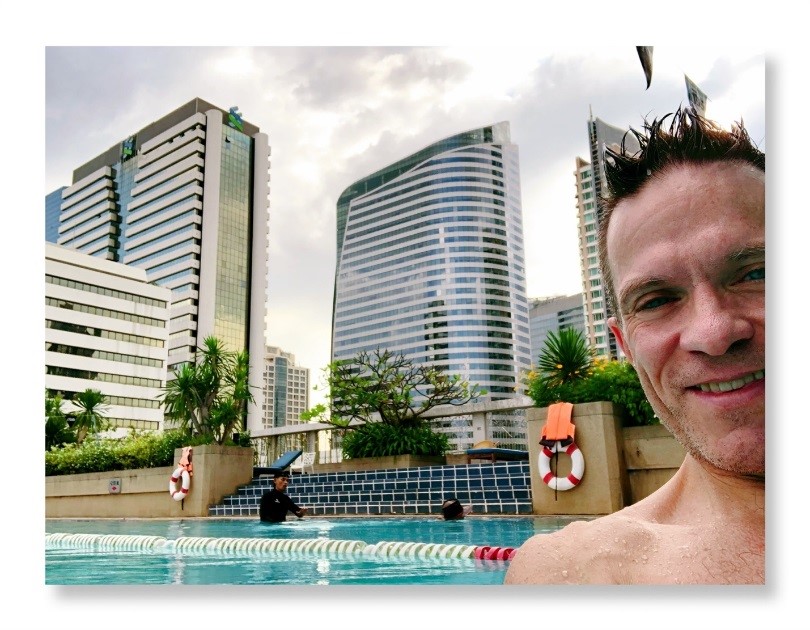 I loved spending the holidays with my friend and his auntie in Bangkok, and then ending my visit by teaching a class at Srinakharinwirot University (SWU) Social Sciences department as guest lecturer. This would be teaching my first live class in Thailand with more than 60 students, and I was quite nervous.  I created an extensive lesson plan in English with the theme of "world politics", so that I could connect with students in their field of international relations while using the English language. I found that many students were quite shy to begin with, but many of them had good skills in English and soon were excited to improve and participate. By the end of the class, six or seven groups from 60 students made excellent mock electoral speeches, as if they were running for office in some future election: "If you elect me I will…"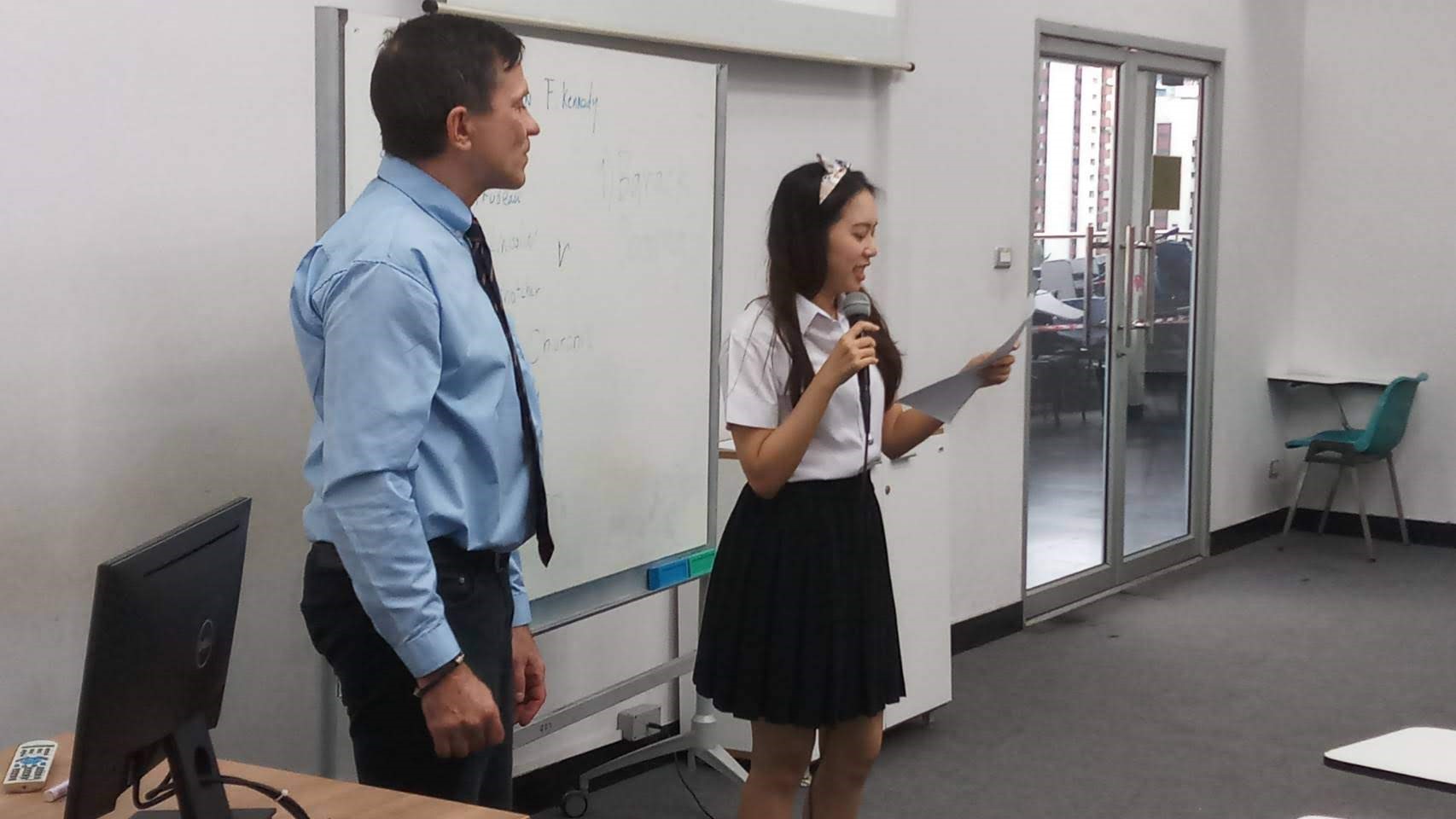 In January 2019 I returned to Vancouver again, revived and inspired, and began tutoring English in one-on-one classes to my first private student. We would meet weekly and practice her English speaking and listening skills at the public library conference rooms, but I also created active live walking lessons in the downtown area with her, where I would encourage her to interact with people in real situations and I would watch and correct as we went.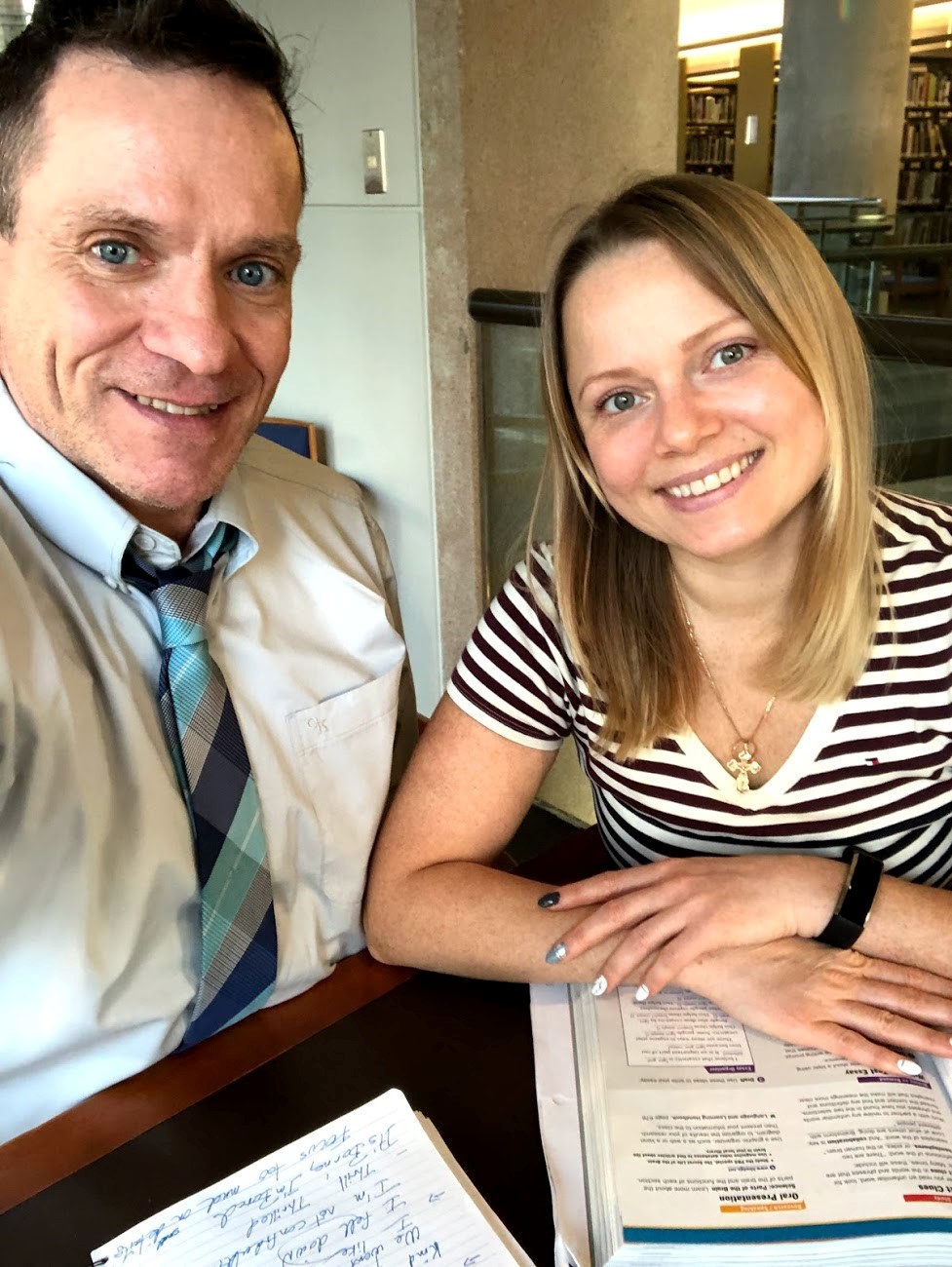 Later that year, I visited Thailand two more times, participated in the famous Songkran festival, and visited the beautiful river city of Amphawa (63 KM west of Bangkok). For my third Thai visit in September 2019, I was invited as guest lecturer for first-year SWU social science students, and created an interactive lesson comparing the differences between Canadian and Thai law. In September, in conjunction with the SWU social sciences department, I volunteered to create and teach an afternoon of 'ESL for policing' for the officers of the Bangrak police department. All my preparation was met with a surprise that afternoon when I discovered that most of these officers could only speak Thai, so I quickly revised my planned lesson on the spot, and decided to switch the lesson into imagining and improvising scenes where the officers might need to speak in English. I particularly remember jumping over tables and taking one of my student assistants as hostage using the microphone as a weapon, and another instance where I pretended to be an obnoxiously drunk farang ('foreigner') on Bangkok's infamous Khao San Road. In both cases, the officers enjoyed these activities very much, and jumped gleefully into the challenge of play acting in these scenarios using their English skills.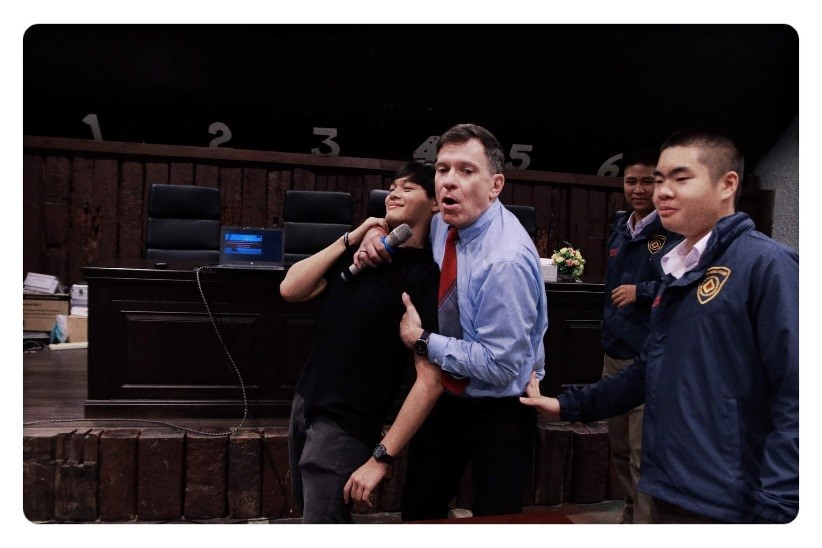 At the end of that year Pete visited me from Thailand and stayed with me for his first time in Canada over the Christmas and new year's holidays. It was an extra cold and rainy December, but I showed Pete as much of my Vancouver as I could during his stay and we went everywhere and enjoyed a wonderful time together. I loved being a tourist in my own city for once, and saw the city through Khun Pete's fresh pair of eyes, before he finally returned to Thailand and to teaching his next semester at SWU.
During 2020 I was isolated in my Howe Street Vancouver apartment, which felt like a year frozen in time. With Covid-19 happening worldwide, I began tutoring students online, and strived to make online tutoring classes that were effective and relevant for my students, and not boring within the constraints the Zoom platform. I used ideas from my acting and improv experience along with my TEFL training to help students with accent reduction, and to grasp the sounds and rhythms that native English speakers use. My studio apartment had become an all-purpose space where I did everything: living, teaching, music, self-tape auditions for film and TV. Mostly, however, this isolation gave me the chance examine myself inwardly, to consider and re-evaluate what mattered the most to me in life, and what changes I needed to make.
Pete and I always continued to call and connect every single day by line call or video, and as the year drew to an end, something told me it was time to act. If I was going to be locked down, it might as well be with the person I love, and why not turn this challenge into an opportunity in a new culture and language? Having completed all the necessary paperwork with the Thai embassy, negative Covid test, fit to fly, and so on, on December 25th 2020, I hopped on a plane to Thailand and jumped right in to this crazy adventure. I have now been here for 11 months and counting, extending my visa every two months under special Covid provisions, and sheltering from the pandemic, while nurturing a new career as a teacher and coach. Every day here is both terrifying and exhilarating; it might be the most challenging, inspirational and exciting part of my life.
Since being here I have taught two guest lecturer coaching sessions for SWU. I coached several third- and fourth-year SWU students for the "I Have a Dream, Martin Luther King Speech" contest through the American Embassy, and several of my students were among the final candidates. The International Committee of the Red Cross, in collaboration with the Faculty of Law at Chulalongkorn University, organized an International Humanitarian Law Moot Court and Role Play Competition, which is a challenging forum for students of international Relations to practice and put into action their diplomacy skills in English. I had the honour of coaching three of the SWU political science students for their participation in this contest.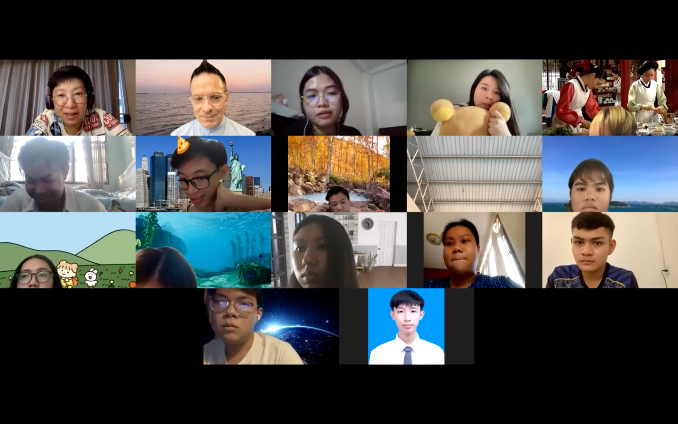 In the springtime, we discovered the online teaching company FutureSkill, whose lessons are all in the Thai language. They were very interested in a course for Business English, taught all in English. It took many months to research the course, create my own special variations and then to finalize an outline for them, including my first PowerPoint of eight course modules and multiple slides per module. We filmed the whole course in just under one day – taking nearly eight hours straight through. By the end I was exhausted but thrilled with the accomplishment. My research and teaching skills in this online mode are new, but I am proud to have taken my first steps and I'm looking forward to creating more excellent online course modules like this one.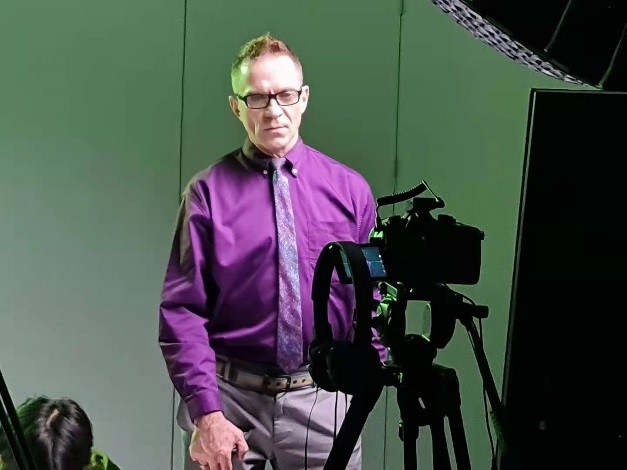 What is next? I currently teach seven students privately (online) every week, including my first private Thai student by Zoom. I continue to research and find interesting and exciting materials to work with every week, keeping my class content fresh and fun. Next year, I've been offered an amazing position teaching intercultural communication in the context of creative /dramatic arts at Srinakharinwirot University International College, and potentially some other guest lecturer spots there as well. I am excited to venture into this exciting unknown territory as a teacher, language learner and communicator.
Finally, over this entire year Pete and I take every moment we can to play surf skateboard. This has become quite a trend here in Thailand and we are getting pretty good at it. We are both very grateful to have this exercise outlet, and I'm quite certain that it's the one thing that has kept us sane and our bodies in shape during this challenging year.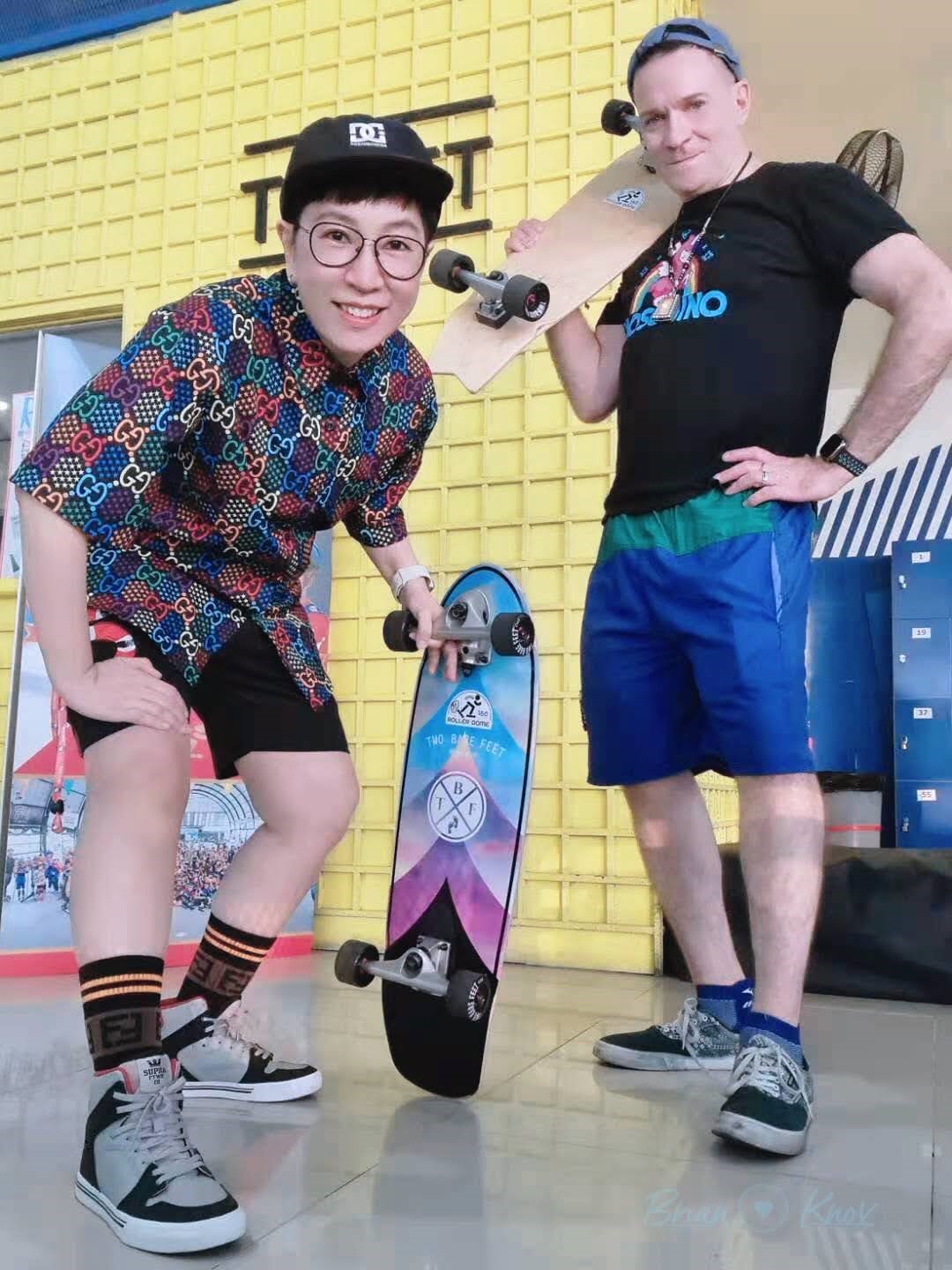 Brian Kno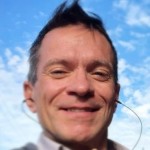 x McGugan (B.F.A. acting University of Alberta, 1987) is a Canadian actor and ESL teacher with over 35 years experience working in film, theatre and TV. Brian also completed the Oxford Seminars TESOL/TESL/TEFL course in Vancouver back in 2018.  Over the last 2 years, Brian has expanded his teaching skills, including working as a guest lecturer with Srinakharinwirot University in Bangkok, Thailand, as well as creating an ESL for policing course for the Thai police and tutoring students privately. Earlier this year Brian moved to Thailand to join his partner in Bangkok. Since then Brian has    been busy working as a guest ESL lecturer and coach, as well as creating and filming an online ESL for business course with FutureSkill Thailand. Brian is now happily living in Bangkok where he continues to teach and tutor students privately online and look for new opportunities and challenges.