Are you thinking about teaching abroad in China? It's always difficult to decide where to go, but we've compiled a list that might help you think more seriously about China. From the travel opportunities to the food and financial savings, China just might be the right fit for you. Here are 5 reasons to teach English in China:
1. Travel: Arctic Tundra to Tropical Paradise
If you're pondering whether or not to accept a teaching position in China, one thing to consider is what you'll be doing in your free time. Normally you'll receive at least 21 paid holiday days. Two of the major holidays are National Day and Spring Festival (7 days). It makes sense to take full advantage of the different destinations that the Middle Kingdom provides during your holidays. The sheer geographical size of China provides many options for tourist destinations, including a vast amount of cultural destinations that China has developed throughout its 5000 years of history.
Some of my favorite cultural experiences were attending the famous Harbin Ice Festival in the northern province of Heilongjiang and visiting the City of Eternal Spring in Kunming, Yunnan. One of the other opportunities that I took full advantage of while living in China was its proximity to other Southern Asian countries such as Thailand, Vietnam, Cambodia, Laos, and Indonesia.
Let's not forget the numerous tourist spots, such as:
The Great Wall: One of the iconic symbols of China that should be one anyone's bucket list while traveling or living in China.
Forbidden City: The sheer size of it will leave you speechless. It is one of those few spots in the world where you are actually able to walk into history.
Gulin: While traveling through Gulin, you will feel like you are traveling through a scene from Avatar. The landscape so closely resembles James Cameron's 2009 film that China has officially renamed a portion of Gulin the "Hallelujah Mountains."
2. Food and Drink:  Liven Up Your Taste Buds
Forget what you think you know about Chinese food. If you want an authentic Chinese food experience, you have to go straight to the source. The food varieties range from province to province, so you'll have plenty of opportunities to awaken your taste buds in different ways. With dishes like Guobaorou to the ever popular Peking (Beijing) roast duck, you'll have endless options. During the winter months, you can warm up by trying genuine "Hot Pot," which consists of various meats and vegetables that are boiled in a milk broth.
There are numerous options for each meal. My favorite meals include:
BaoZi (steamed buns): These steamed buns are made from rice flour that contains a mixture of meat and vegetables. In my experience, beef and carrots are a fantastic option, second only to coriander and pork.
JiaoZi (dumplings): Each province will claim to have the best dumplings in China. My experience is that you really can't go wrong ordering a dish of dumplings in any province.
Guobaorou: A classic northeastern dish with its battered slices of pork, which are deep-fried and coated in a sweet sugary sauce. This dish is usually one of the first dishes new expatriates are introduced to as there is no comparable dish in Canada or America.
3. Savings: Your Wallet Will Thank You
One of the best perks of teaching in China is the ability to save. The cost of living in China is considerably lower than most western countries, so the opportunities to save are endless. Here are some examples of ways you can expect to save your money:
Fresh Produce: The cost of fruits and vegetables is a fraction of what they are in North America. What's better than the price? The fact that there is always a fruit or vegetable stand/shop within walking distance of most apartments or places of work.
Restaurants: No matter what type of meal you might be craving, you will easily be able to find a restaurant to your liking for a very reasonable price. If you are looking to go to a dive restaurant, you can expect to spend 10-15RMB ($2-$3) for a meal. Mid-range restaurants will be 30-50RMB ($5-$10) per person for a meal. High-end restaurants can range from 50-150RMB ($10-$30) per person for a meal.
Transportation and Lodging: The cost of public transportation in China is amazing when compared to other locations. Long distance trains generally cost 100-500RMB ($20-$80), so traveling long distances is very affordable. Budget hotels average 150RMB ($30) per night as well.
Entertainment: A night out in China can easily be described as a unique experience. Whether you're traveling to the local expatriate hangout or spending the night in a popular KTV (karaoke) bar, you will not have to break the bank to have a night out.
4. Personal Satisfaction: Teaching English in China
One of the hardest things I encountered while preparing to leave China was saying goodbye to my students. It's common in China for a teacher to continue with a class as they progress through the various levels that a school offers. I taught the majority of my students in China for 5-8 consecutive years. The fact that I continued with my students from book to book also made my lesson plan preparation much easier, as I knew exactly what activities my students enjoyed.
I was amazed at the level of improvement I witnessed from my students. I remember I started out teaching my students simple words such as "apple" and "banana," and when I left China, I was having fluent conversations with those same students. Seeing both the students and their level of English grow is one of my fondest memories of teaching in China.
5. Lifestyle: Explore New Hobbies
During my 8 years in China, one of the greatest things I began to appreciate was the amount of free time I had to pursue my other interests. The average work schedule in my city ran between 20-25 hours per week. Generally, teachers taught Wednesday to Friday evenings and had full work days on Saturday and Sunday. When you are not teaching, you are free to pursue any hobby that you might have. I knew many teachers that entered China with a high school diploma and left with a Bachelor's Degree that they completed online during their stay. I also saw people who took full use of their free time by going to fitness classes or enrolling in Mandarin lessons to learn the local language.
After living in China for the better part of a decade, I realized that there isn't specifically one aspect that I was going to miss – I realized I was going to miss everything about the country I had come to call my home.
Discover what it's like to live and teach English in China by attending a free information session near you, or download our free course guide!
About the Author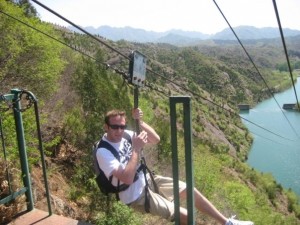 Liam Norwich graduated from Oxford Seminars and proceeded to teach in Northern China for 8 years in both private and public language schools. He graduated from Niagara College and has recently returned to Canada to further his education.