In this podcast, ESL teacher and Oxford Seminars Graduate Liam talks about his experiences teaching English in China, including why he decided to teach ESL abroad, where he was able to travel, seeing the Great Wall, and how teaching English overseas gave him more confidence and made him more independent.
Liam Talks About Teaching English in China
Want to learn how you can teach English in China and other exciting destinations? Visit a free information session or download our free course guide.
Video Transcription
Hi, my name is Liam and I previously taught in Northern China for just shy of eight years. I was teaching in a city called Daqing in the northern province of Heilongjiang. It's a city of about 1 million people. And how I actually ended up there was throughout high school I was really interested in Asian culture and I thought teaching ESL [in China] would give me an opportunity to teach and save money, as well as travel to neighboring countries. As I was in China, I was pretty close to Japan, South Korea, and some southeastern countries such as Indonesia, Thailand, Malaysia, and Cambodia. So it gave me the opportunity to save and travel at the same time.
While teaching abroad I think probably one of my favorite memories was the first time I actually went to see the Great Wall. I went to a section of the wall called the Simatai section. It's one of the oldest, but it actually gave me the feeling that I was walking into, and actually able to touch, history. That's something I'm always going to remember.
While traveling abroad, I think the thing I took away most, especially with my outlook, is it gave me more confidence, as I was able to survive in a foreign country for almost eight years. When I first got there I didn't speak any of the native language so I had to learn to adjust with everyday things such as banking, going to the market, buying fruit, and using public transportation. So that's something my confidence did grow with as I was able to survive and live in China for eight years.
One thing that I do know now is if I were to travel abroad again to teach I'd probably want to go to Latin America, as it again is a continent that has a different culture than what I've been exposed to previously. So if I were to go again I'd probably look at going somewhere, maybe Argentina, or possibly to Brazil.
About the Author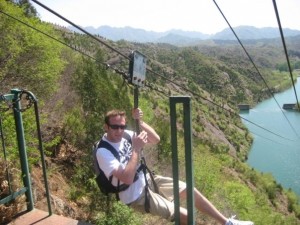 Liam graduated from Oxford Seminars and proceeded to teach in Northern China for 8 years in both private and public language schools. He graduated from Niagara College and has recently returned to Canada to further his education.