My Search for Teaching Jobs in Vietnam
I had finished my degree and I had completed my TESOL certification program.  I was ready to start on my goal of finding teaching jobs in Vietnam. But first I took some time off to travel and wander.  I slowly worked my way north up the coast of Vietnam from Ho Chi Minh City.  I hiked, toured, relaxed, and ate.  Although traveling in Southeast Asia is relatively inexpensive, I did begin to strain my budget.  By the time I arrived in Hanoi, I had to immediately start looking for work, and Hanoi was the perfect place to start.
With a stroke of luck, finding a teaching job in Vietnam proved to be a very quick process. I was able to get a job just hours after arriving in Hanoi.  After finding a cheap hotel, I dropped off my bag, and I went around the corner to a pub that, according to the Lonely Planet, boasted the largest collection of Grateful Dead music in all of Southeast Asia, the R&R Tavern. I knew I would find friends there. At the pub, I had the great fortune of meeting several teachers, including three head teachers from three schools in Hanoi.  My interview basically began right there over beer as all three of these teachers desperately needed additional staff.  At the time, the economy was growing rapidly, and enrollment in English schools was booming, meaning that teaching jobs in Vietnam were plentiful.  I simply had to choose which school I was interested in, arrange a time for an interview, and teach a demo lesson, but this was only a formality, the job would be mine.  I chose the school that was closest to the Old Quarter of Hanoi, by far the most interesting part of the city.
I stayed up late writing a lesson plan for my first class which would be an upper-intermediate conversation class.  This was a one hour class and the lesson would focus on the future tense for making plans, which fit nicely for me having just arrived in a new place. While planning this class, I was full of trepidation and excitement.  I reviewed all of my TESOL materials and rehearsed my lesson over and over again in my tiny hotel room with the frenetic and unfamiliar chaos of the Hanoi streets giving me a new rhythm in this strange place.
Sweating Through My First Lesson
My class began at 7 pm which is after dark in Hanoi.  It was an incredibly hot and humid May evening.  I had 7 students, all with friendly faces, seemingly eager to meet their new teacher.  Even with the A/C it felt like a sauna in the classroom.  I began my lesson by introducing myself and chatting with the students immediately trying to understand what "upper-intermediate" actually meant.  All was going as planned.
I later learned that Hanoi was subject to frequent blackouts.  Some blamed the heat, others the Chinese who controlled the flow of the rivers from next-door China that generated the electricity.  Whatever the cause, whomever was to blame, I would never forget the comic timing of this blackout.  I was not yet 5 minutes into my lesson, my first lesson, the lesson I had anticipated giving for the last few years, when the power went out, leaving the eight of us in complete darkness.  The students politely asked if they should leave. I thought about it as other classrooms were emptying.   I asked them to stay in the hopes that the power would be restored but I really had no idea how long this would take, but I had waited too long for this day, and I couldn't let it slip away.  They agreed and I continued the lesson in ABSOLUTE darkness. After about 10 minutes I ran out of material that could be done in darkness, TESOL classes never mention this obstacle, and I was about to let them go, when suddenly the lights flicked back on, and only then was I aware that the A/C had also been off. I, the esteemed new teacher, looked as if I had just played a full 90 minutes of soccer , while my students, of course, naturally acclimated to the punishing humidity, were completely dry and comfortable.  We all started laughing, at my expense, and I learned then and there what a tremendous asset it was to allow yourself to be the buffoon, the butt of the joke.  It builds a connection and a trust with your students as they attempt to learn a challenging new language.  This soggy moment would never dry and still informs my teaching to this day.
Written by Kevin McLaren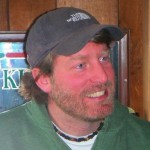 Kevin McLaren taught English overseas for 2 years in Thailand, Vietnam, and Taiwan. He has been teaching ESL for 10 years.  Kevin has a Master's in Education. He currently teaches English at Tacoma Community College in Tacoma, Washington.