I was walking through the Eaton Center in downtown Toronto, Canada a few days ago when a store called Reiwatakiya caught my eye. It looked like a whimsical beauty store, and when I walked inside it, I saw – to my pleasant surprise – lots of familiar Korean and Japanese beauty products. I browsed through the store feeling nostalgic about my time spent teaching English in Korea in 2021. I wanted to be a kindergarten ESOL teacher and was placed at a private school, known as a hagwon, through Oxford Seminars.
I arrived in mid-February at the Incheon International Airport, on the outskirts of Seoul. I met up with another Canadian teacher who was placed at the same school, also through Oxford Seminars. At the time, Covid-19 was still mostly in China with just a handful of cases throughout the world, including in Korea. I didn't wear a mask but my co-teacher, E, offered me one. I accepted it from her, but I was still not interested in wearing it at the time.
We bought Express bus tickets to the city we would be living and teaching in, Cheonan. Cheonan is a medium-sized city that has a little bit of everything, and is about an hour away from Seoul. Landing in a new country where I didn't know the language made me feel apprehensive, but I was impressed and relieved at how quick the customer service was at the kiosk to buy the bus tickets. Also, express buses in Korea are some of the nicest, cleanest buses I've ever been on.
Anyhow, E and I met up with our school director at a Shinsegae department store terminal, where we had been hanging around waiting at a café. He picked us up and took us to the love hotel we'd be staying at for a couple of weeks. A love hotel is a small hotel usually frequented by those looking for a romantic place to stay overnight. I thought that two women who were staying at a love hotel was pretty funny, but later learned that it's pretty normal for new teachers to be accommodated at them temporarily, until their apartments are vacated by previous teachers.
The love motels were pretty clean and had convenient, western-style toilets in a "wet" bathroom, but the beds were hard and uncomfortable. Anyhow, I had to make the temporary stay there work and try to get some sleep. I was expected to start teacher training with E the next day. The director picked us up and showed us the route we would take to walk from the hotel to work. He bought us breakfast from one of the Paris Baguette Cafés that can be found scattered throughout Korea, like Starbucks are in North America.
I was expecting a whole school, but the academy was in a commercial building and it occupied only one floor. I met the other Kinder English and Korean teachers. Most of them were leaving at the end of their contracts within two weeks and going back to America or Canada. Only one teacher had renewed their contract. They were mostly teachers from America, and unfortunately for me, the one teacher who had stayed was the teacher who I could barely stand. I nevertheless had to force myself to get along with them throughout the year.
The teachers had planned to take E and I to Seoul for the weekend. We took a KTX there, a bullet train. Korean public transportation is the best public transportation I've taken in any of the countries I've visited, especially once you figure out how to use the transit apps, Kakaomap and Navermap. And so, off we went for a weekend adventure! We stayed in a hanok, which is a traditional Korean house from the Joseon Dynasty times, with in-floor heating. It was pretty comfortable sleeping on the floor, and it was nice to start off with a traditional Korean bucket list experience. We also visited a beautiful palace and had Korean BBQ. Korean BBQ is delicious and also a fun social experience. Korean BBQ is also less expensive and more fun in Korea than in Canada, and I dearly miss it! Hanging out in Seoul over the weekend was a fun but blurry experience. I was the only one who didn't get drunk on Soju, but I was definitely looking forward to going back to Seoul for more.
Back in Cheonan the following Monday, myself and the other teachers heard that there was a major outbreak in another city. A "super spreader" event. Someone was sick with Covid and went to multiple religious services. The route of transmission reached far enough throughout the weekend to lead Korean government officials to announce the temporary closure of all schools, including public schools and hagwons.
The school closure was initially supposed to be for two weeks, but then it was extended another two weeks, and then again for another two weeks. Throughout that uncertain time, all the teachers at the hagwon I was placed at did have our salaries reduced. We weren't teaching and there was nothing else we could safely do. We were told we'd begin teaching once the schools opened up again, but we didn't know when that would be. Covid-19 was still not officially a pandemic but Korea was the new epicenter of the coronavirus. I couldn't go to Seoul because it was too risky. Occasionally we went in to the school to do some demo lessons, prep work, and training a couple times a week. E and I spent the majority of the time within those six weeks hanging out on the roof of our apartment building. It was a two-floor building with studio apartments, and we ended up liking the roof of the building more than our apartments. It wasn't the best view, but it was a view and air and space.
Once the schools opened back up, the students came in and we could finally start teaching. My first three classes of the day were kinder classes. I had two regular classes and then I would teach one of the other kinder classes for an hour. My first Kinder class consisted of one boy and three girls, including fraternal twins. They were my little buddies – five years old biologically, seven years old according to the Korean ages (if you don't know what this means, Google it). The little boy, Luka, was my best friend in Korea, aside from E. He was obsessed with space, and throughout the year he learned more about the solar system through the curriculum and on his own than any of the teachers. He even knew more about the solar system than I did!
In Canada, teacher-student interaction has a lot of boundaries, understandably. In Korea, while there are security cameras in the classrooms (which was a shock for me) the parents didn't seem to have any issues with teachers hugging students. Students regularly hugged teachers anyway, but being able to reciprocate the affection was a relief. I bonded with Luka very quickly and was always impressed by him. Another student in the same class also made me laugh whenever I asked her how she was, and she gleefully told me she was happy because her mother was angry. That kid was cooler than I was as an adult – she had such a poise about her. The kids really made my whole year in Korea, despite the difficulties of the pandemic.
I did contemplate if I should go back to Canada early, but I wanted to fulfill my contract and to gain valuable teaching experience. I also wanted to explore Korea further, though there were various restrictions put in place throughout my year in Korea. Foreigners couldn't leave the country, for example, otherwise their work Visas could be revoked. Vacation plans to Japan and Thailand were therefore automatically cancelled. It took me a few months to get over the culture shock, coupled with the pandemic-related feelings, before I was able and ready to get back out there and explore Korea as much as I could.
My boring, casual wardrobe of wearing the same things repeatedly must have really irked my Korean co-teacher, G, because halfway through the year, she decided to take me shopping. She showed me which stores to hit and what to look for in terms of price and style. I bought some new pieces then – I have to admit – became somewhat addicted to shopping in Korea. I bought a whole new wardrobe within six months for under $1,000. I loved shopping at the boutiques across from Shinsegae and I also loved the Goto Underground Mall in Seoul. I loved the Doota Mall as well, but that was just to browse in because it was full of beautiful yet pricey Korean designer pieces.
The fashion and Korean BBQ weren't the only fun aspects of Korea for me. I also loved the skin care products. I collected sheet masks like they were becoming extinct and learned to refrigerate them from G. Olive Young stores around the country were like corners of beauty heavens. It became more thrilling to shop at Olive Young than it was at Sephora.
I did want to take in more cultural aspects of Korea as well. During my summer vacation week, I went to three different cities and did typical tourist activities. I went to Busan and ate a fresh grilled shrimp meal at the Jagalchi Fish Market. I ate a few delicious, nutty hotteoks at BIFF Square. I checked out Taejongdae Resort Park and saw a hazy, foggy view of Japan across the ocean. I also visited two other cities: Daegu and Gyeonju.
Gyeonju has ancient tombs that look like giant hills and is also home to my favorite place in Korea, Donggung Palace and Wolji Pond. I had gotten a little lost walking around in the city and asked a Korean couple with a child for directions to the place, which they gave me. And then they offered to drive me there since it was on their way. I gratefully accepted, even though I would never do that in Canada or any other country.
Wolji Pond is an artificial pond but my whole experience there felt calm and peaceful. The other tourists and locals were very hospitable. The lavender growing in the area was stunning.
By that point, I had settled in with a new phone, a Samsung android which I became very fond of, and I am not particularly interested in technology and gadgets. But Korea is also a mecca for technology and gadgets. I actually lost my beloved phone on a local bus at the end of my vacation, but was able to recover it through the help and hospitality of other Korean co-teachers and the public transit service in Cheonan – and my phone was completely fine. When it came to crime, I felt safe in Korea. I didn't have to worry about thieves or pickpockets.
There were plenty of situations that I wish I had approached differently during my year, but living in Korea – outside of my comfort zone – was a great experience. I was satisfied and I wouldn't take it back, especially when I think about my kinder students. I'm looking forward to going back once things have finally fizzled out with Covid-19 and to exploring more of this fascinating nation.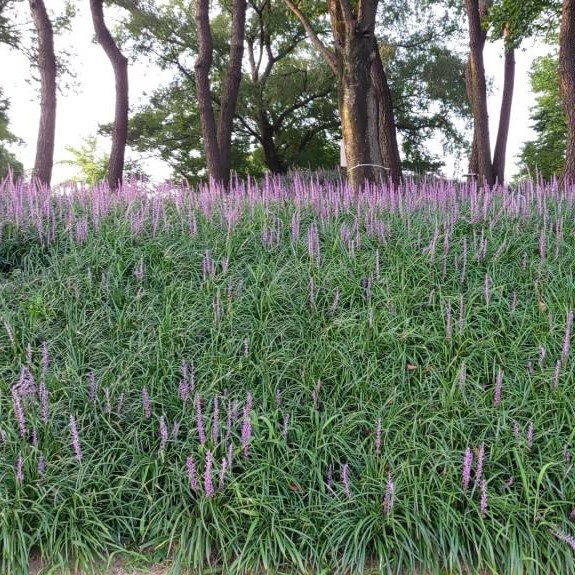 Zara Blacklock is an Oxford Seminars graduate who spent a year teaching young learners in Korea during the pandemic. After returning home, Zara has been busy working an office job and is hoping to transition to a new career in the health industry in the future. Zara also plans to begin teaching English online while pursuing this new career path, and hopes to return to Korea in the next few years.