I had only been in Taipei for a week when a chance meeting at a bar in the Shida neighborhood led to my break into show business and few seconds of fame in Taiwan. It all started when an English girl I had recently met asked me if I wanted to be in a commercial. She had lived in Taipei for a while and, according to her, the film industry often looked to Westerners to appear in commercials, television programs, and movies. There were model/actor agencies specifically set up to help Westerners find jobs for additional income, helping some to even make a full-time job at it. So, of course I wanted in and proceeded to get the address for the auditions.
The casting agents informed me I was auditioning for a part in a bra commercial, and I was to be a businessman walking his dog that suddenly spots a beautiful woman. I had nearly no time to prepare! Though I was relieved that I wasn't going to be wearing the bra myself, I quickly thought about how I should play my role. Should I be George Clooney? Jim Carrey? Should I swagger? Strut? Stumble from the awesome spectacle of beauty? I was given a few takes to showcase my terrific range, and I was confident that I would not be receiving a call back.
To my surprise, I did receive a call less than a week later. The part was mine, and I was given another address. When I arrived, a woman and man in their 20s greeted me and led me into a cold office in, what appeared to be, an empty building. Neither of them spoke English. They invited me to sit, rolled up my sleeves, and began to draw the most ridiculous tattoos with markers on my arms. One was a crown, one was a menacing bird, and one was a cross. The man looked up at me, squinted his eyes in deep thought, smiled, and finally said, "No forever." I was clear that I was not to be the dapper dog walking rubbernecker.
The next day, I went to a warehouse for the shoot. The set was an elaborate city street, brightly lit, cameras ready, and a busy crew. They applied makeup and explained the plot. I would be a scraggly biker, complete with a long, blonde wig, leather vest, and tattered jeans.
I was joined by a few drunks and a few classier urbanites. This was clearly no ordinary bra. This Triumph bra, the protagonist, gave its wearer the power to create a spontaneous tornado with just the wink of her eye, casting off any onlooker. It was an impressive story, and an impressive bra. The wearer of the bra for this commercial was a famous model from Hong Kong, who was very friendly to all of us. I had never seen her before, but I saw her on many magazine covers afterward.
Our part was scheduled to begin at 7 in the evening, an optimistic estimation. I learned that even small commercial shoots were quite complicated, and there would be plenty of down time.  We passed the time playing cards. The food they laid out was delicious, but the mountain of dumplings slowly disappeared. 8:00 PM rolled around and coffee was needed.
The dapper businessman that I actually auditioned for was played by a French model. He was slightly more qualified than me. The plot required him to wear a suit that could be ripped from his body, simulating the impact of the tornado and leaving him flabbergasted. Assembling this suit was a precise and tedious process, and as such, 10:00 PM and 11:00 PM came and went. After each take, there was a lot of waiting.
Midnight. There were countless takes for what would only amount to just seconds of the commercial. Timing was crucial for the part of the story where the actress winks and off comes the suit. However, each time she strutted up to the camera and stared into it, she blinked but did not wink. Perhaps it's genetic, like curling your tongue or rolling your Rs, but she could not wink.
At 2:00 AM, they ran out of coffee. She did finally manage to wink, so we could move on. Finally, my part began around 5:00 AM. I leaned onto my hog as she walked by, all of us staring at her with raised eyebrows and open mouths.
At 7:00 AM, they took me to a giant green screen and fitted me into a harness under my clothes. Then, tied to a wire, they hoisted me into the air, and the harness suddenly shot up firmly into some sensitive areas. (Peter Pan actors now have my respect!) As I dangled into the air, the director told me to spin, but, we quickly learned, without resistance, there can be no motion. I frantically moved my arms, hips, and legs to try to spin with only embarrassing results. (Take a moment to picture this, and yes, it's okay to laugh.) To provide resistance, the assistant director held up his hands to allow me to push off with my foot. I pushed off hard – this was a tornado after all – his hands parted, and I kicked him hard in the forehead. But, they got the spin they wanted by 8:00 AM!
A month later in the mall in Taipei, I saw a Triumph Bra kiosk. My commercial was playing!  I pointed and excitedly said, "That's me!" to a Chinese woman walking by. She looked at me and said, "Okay, thank you," and continued walking.
Of the different edits I saw on television, my exposure ranged from a half second up to nearly 3 seconds! My 15 minutes of fame in Taiwan turned out to be only a few seconds, but I was paid $600 for my contribution, and I will always have this great memory of my time in the limelight.
As you can see, teaching English abroad can bring many experiences including breaking into show business in your new destination! Oxford Seminars can help you get certified to begin your journey abroad teaching English and who knows what else.
Written by Kevin McLaren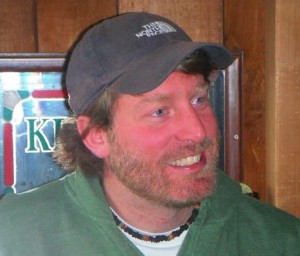 Kevin McLaren taught English overseas for 2 years in Thailand, Vietnam, and Taiwan.  He has been teaching ESL for 10 years.  Kevin has a Master's in Education. He currently teaches English at Tacoma Community College in Tacoma, Washington.