This post is the third in a series about an Oxford seminars instructor and his travels overseas.
After spending a summer in Korea, described in my previous post, the following spring I began to dream up new adventures for the summer to come.  I knew that I wouldn't be able to spend the majority of the warmer months overseas, as I had too many obligations keeping me home.  I had time enough to leave for a week or two, but as I was still deep in the throes of graduate school, I was uncertain if I had the funds at the ready to take such a vacation.
Much to my surprise, there were astoundingly low fares to Central America that summer.  I had long wanted to visit the neighboring countries of Costa Rica, and Panama—the former because of its rich natural beauty, and the latter because of its urban charms as well as the canal—and luckily, I was able to find a flight going into Costa Rica's Capital, San José, and returning out of Panama City for less than I had recently spent on a flight to New York.  Making a spontaneous, largely unmotivated trip to Central America became easy to justify, so without further consideration, I bought the ticket and began planning my trip.
Employment and Exploration in Costa Rica and Panama
The very next week, a young woman named Elizabeth, who had taken my certification course the previous September sent me a message to let me know that she had recently accepted a job in San José at a language school she had found through the Oxford Seminars placement service.  I gave my congratulations, and told her that I was headed there myself in a few short weeks.  She offered to show me around when I arrived, and true to her word, she introduced me to some of the entertainment and diversions of her new city during my two days in San José.
Few travelers spend much time in San José, preferring the beaches and rainforests of the surrounding provinces, but as the economic center of the country, its capital is where most teaching jobs are to be found in Costa Rica.  For Elizabeth, it was the perfect destination.  During the week, she taught business English to adults who worked for large companies; on the weekends, San José proved a convenient home base to explore the surrounding mountains, dormant volcanoes, tropical rainforests, rivers, turtle sanctuaries, and pristine beaches found throughout the country. Once Elizabeth returned home, her experience in the corporate world abroad helped her to find a management position that she has held for the past several years.
After a week in Costa Rica (a few of those days spent in the relaxing ambiance of the Caribbean coast), I made my way to next-door Panama, spending another day or two at the beaches of Bocas del Toro, and ziplining through the cloud forests of Boquette before finding my way to Panama City.  As luck would have it, a young man named Nicholas, who had taken my certification course that very winter, had recently left to join the Peace Corps in Panama.  He would soon be sent off to a remote village, but not before he finished his four-month orientation in Panama City.  One evening, he and several of his new friends came to meet me in the charming, historic neighborhood of Casco Viejo.
Over dinner, they told me about all of the marvelous things they had learned so far in their training, from Spanish language refreshers to wilderness survival skills.  The one thing that their months of preparation lacked, apparently, was much in the way of teacher training.  Nicholas's new friends envied that he had taken the time to certify himself in TESOL, and when he returned to the US, he told me that he was grateful for the training he received from Oxford Seminars, as there were virtually no teaching resources—not even the internet(!)—in the tiny town where he was stationed.  Despite the challenges of living in such an isolated setting, his experience in Panama inspired Nicholas to pursue a career in environmentalism, and he is currently enrolled in a top-tier graduate program to help him achieve his professional goals.
Many who teach abroad do so simply to see the world before hitting the grindstone back home and beginning a career path—and that's reason enough—but for both Elizabeth and Nicholas, the experience shaped their future professional lives in ways that neither could have imagined.  Perhaps you, too, should consider Teaching English in Costa Rica, Panama, or somewhere else in Central America.  It's a remarkable region. Nowhere else can you be so close to home yet feel so far away.
Learn more about teaching English in Latin America on our website, or ask an instructor at a free information session.
Download our free course guide for more information.
Written by Jeremy White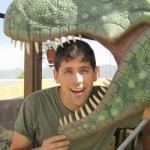 Jeremy White has lived and worked in several states and countries, most extensively as a TESOL instructor in South Korea. He has a master's degree in linguistics and has taught Oxford Seminars courses in both New York and Minneapolis.