International travelers love to visit Latin America—for good reason! The natural and cultural wonders of this region are perennial draws. If you live in the US or Canada, however, it may be a challenge to find time to visit all of the top attractions. Limited vacation time means that most people have to take several trips to truly experience the region. Rest assured, there's an easy way to avoid the frustration and expense of long flights for short stays: Teach English in Latin America! With a home base there, you'll be able to visit each and every must-see. Make sure to put these eight experiences on your bucket list.
1. Visit Mayan Temples
Top Choice: Tikal, Guatemala
Mayan ruins are a trip-maker for many visitors to Mexico, Guatemala, and Honduras. Tikal is the most spectacular (though not the most visited) of all Mayan sites. Tucked away in the jungles of northern Guatemala, Tikal is a collection of ancient stone skyscrapers so otherworldly that part of Star Wars (1977) was filmed there! (No joke; next time you watch the film, pay attention to the scenes on Yavin. That's Tikal!) Allow yourself several hours to explore the complex. Climb one of the towers and watch the sunset. You'll be glad you did.
There's a small airport not far away, but most travelers fly into Cancun, Guatemala City, or Belize City, then spend a few hours on a bus to Flores (the largest major town nearby) and travel by taxi from there. Other Mayan sites are more easily accessible, but none rival the grandeur of Tikal. Admission runs about US $22.
Also consider:
Chichen Itza (Mexico), a large complex of well-restored Mayan temples. Touristy, but for good reason.
Tulum (Mexico), a collection of Mayan ruins right on the beach! And speaking of the beach…
2. Go Snorkeling or Scuba-Diving
Top Choice: The Cayes of Belize
Underwater exploration is a thrill like none other. The islands near Belize City, called "cayes" (pronounced keys) offer some of the most impressive ocean experiences on Earth. The more adventuresome visitor may go scuba-diving at any one of the world-class sites not far off the coast, including the famous Great Blue Hole. Not into scuba? The snorkeling there provides some of the best views of shallow reefs, which are home to a stunning array of tropical fish. I've tried snorkeling elsewhere, and Belize has truly spoiled me; nowhere else compares. Tours run every day, varying widely in price depending on the length of tour and amount of equipment needed.
It's possible to fly directly to the cayes, but the savvy traveler will fly into Belize City and take a short, inexpensive ferry ride to the islands. This method may save both time and money.
Also consider:
Island hopping in Bocas del Toro (Panama). By day, snorkel along beaches lined with starfish and watch dolphins play in the distance. By night, enjoy the dance clubs.
3. Visit Ancient Incan Cities
Top Choice: Machu Picchu and the Sacred Valley, Peru
The Incan ruins of Peru bring more people to South America than any other site. Fly to Cusco, a charming, tidy town that serves as the hub for the region, and plan to spend at least a week in the area. The marquis attraction is of course the spectacular "lost" mountaintop city of Machu Picchu. The nearest town to the site, Aguas Calientes, is not accessible by car. Many travelers take the (expensive!) train to get there; others do the famous "Inca Trail" multi-day hike. Others still—my preferred method—try the "Inca Jungle tour," a 3-4 day experience that includes biking down a mountain, zip-lining, and hiking through valleys en route to Machu Picchu. Most multi-day tours cost over US $200, but are well worth the expense.
While you're in the region, although Machu Picchu is a must-see, remember that there are distinctive towns with Incan relics all throughout the Sacred Valley (Pisac, Ollantaytambo, Moray, and others) that you won't want to miss.
4. Experience the Highlands of Bolivia
Fly to La Paz, Bolivia, and spend a day or two there adjusting to the altitude. (The oxygen bar in the airport is not a joke!) Take a 3-hour bus ride to Lake Titicaca (on the border with Peru), the highest lake on earth. Spend an entire day hiking around the remote islands in the lake and see the breathtaking views of the clear, cold water. Then relax with coca-leaf tea and a trout dinner.
Or, take a bus the opposite direction to Uyuni in the high plateau (Altiplano) region and see the unearthly landscape of the Salt Flats, which extend into Chile. The flats are best experienced on a three day tour (starting at about US $100), where you can really soak in the landscapes you didn't know you'd find on this planet.
5. Venture into the Jungle
Most countries in Latin America have plenty of tropical flora and fauna. From the easily accessible cloud forests of Monteverde, Costa Rica or Mindo, Ecuador to the true deep jungle experience of the Amazon (in Brazil, Colombia, or many other countries), there is no shortage of options—you can't go wrong. But whatever you do, don't miss the rainforest!
6. Explore a big city
Travelers often flock to Latin America for its natural wonders, and never bother to experience any of its major cities. Don't make this mistake! I can't pick a favorite city, but the cultural offerings of major centers like Mexico City, Panama City, Rio de Janeiro, Buenos Aires, Lima, and Santiago are all worthy of at least a 3-day stay. Between the colonial architecture, museums, and culinary experiences, you are sure to find something up your alley.
7. Relax in a less touristy small city or town
Whether a lakeside resort, a remote highland village, or quiet beach town, take the time to relax and learn the true meaning of the word tranquillo. Visit somewhere not yet "on the map" for North American tourists, and experience a slower pace of life. I won't tell you my favorite places—you'll have to find your own. And when you do, make time to chat with the locals. Of course, to be able to carry a conversation, you probably should…
8. Learn the Language!
Many people who teach English abroad regret not learning enough of the local lingua franca. If you plan to teach ESL in Latin America, it's worth your while to study Spanish (or Portuguese, if you plan to teach in Brazil). In countries like Guatemala and Honduras you can enroll in all-inclusive Spanish schools that are remarkably affordable. You might even want to do this before you begin a teaching job. Remember that learning Spanish unlocks experiences that would otherwise not be accessible to you.
Want to learn more about Teaching English abroad? Visit a free information session near you or download a free course guide.
Written by Jeremy White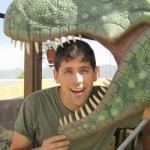 Jeremy White has lived and worked in several states and countries, most extensively as a TESOL instructor in South Korea. He has a master's degree in linguistics and has taught Oxford Seminars courses in both New York and Minneapolis.